Practically silenced in 2020, rowdy student sections returning life to the Friday night parties
By John Herndon for GLICOD
CRESTWOOD – They're back. They are back in droves!
And in some places, the Friday Night Lights are better than ever!
We're talking about student sections. They're back with their boisterous cheers and craziness. They're back with their themed nights — some are following traditions, some are kids just having fun. And you can't miss what groups like the Dragon Lair, Colonel Nation, Bearcat Den and countless other groups have brought to the Friday night happenings everywhere.
Don't believe me? Check your Twitter feed on Friday nights. If you even casually follow high school football, you will undoubtedly see pictures and videos of kids in the stands bringing their A-game to the stands. You will probably notice a bunch of coaches thanking their student sections and fans for their support.
And you will probably see several schools claiming to have the "best student section in the state." We believe they are making that claim in all sincerity with some hometown bias sprinkled in.
You can also be absolutely sure that the chances of winning a debate to the contrary are roughly equal to those of a coach persuading an official to schedule an appointment with the neighborhood optometrist.
But they're fun. And that's what high school football is supposed to be about, isn't it?
I caught up with some members of South Oldham's Dragon Lair Friday night. Even though their team was expected to make quick work of district foe Jeffersontown and the gametime was moved up two hours after a construction incident left South without lights on the home field, the Dragon Lair was there in full force with its "Hawaii-out" or "beach-out."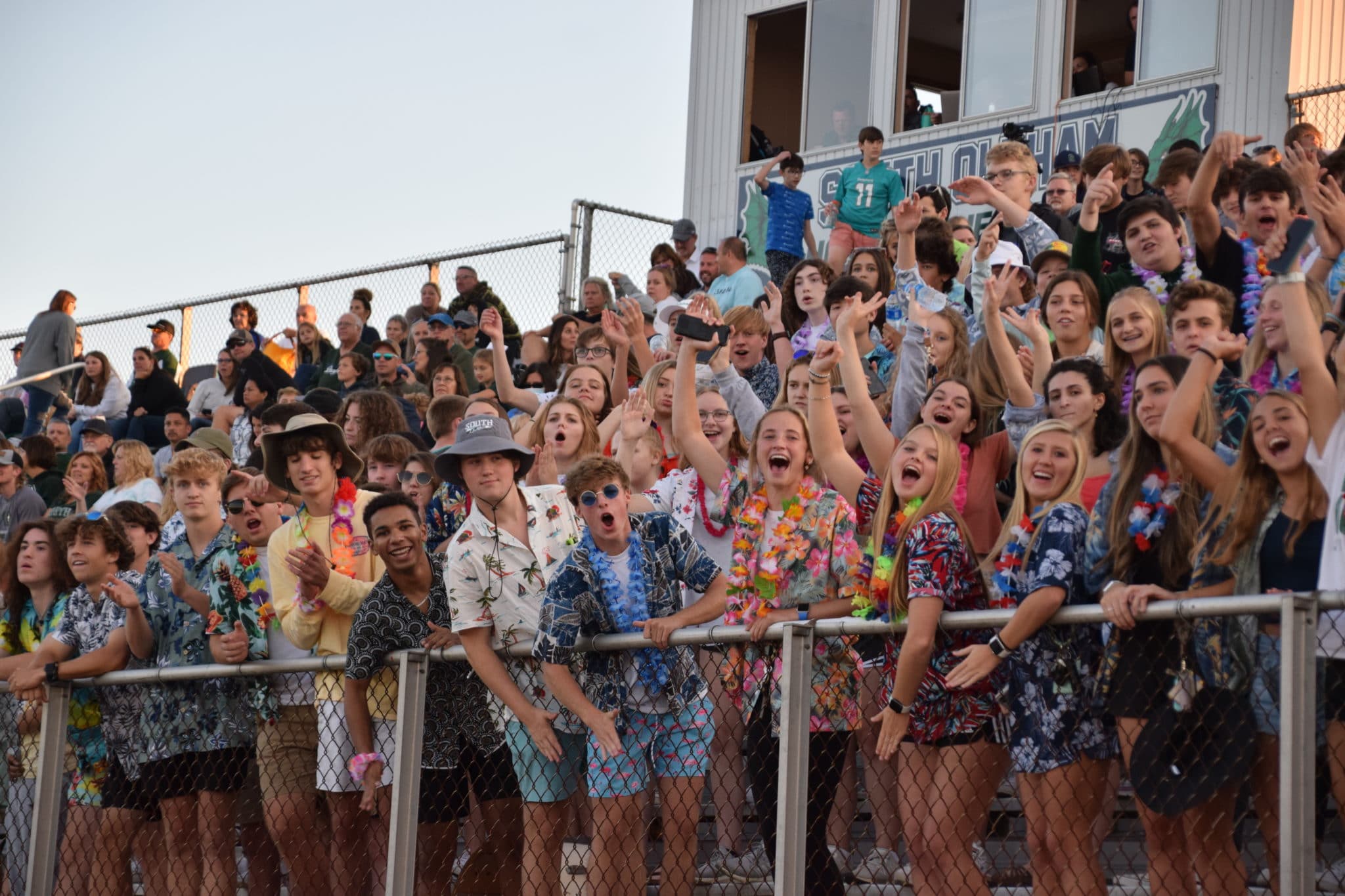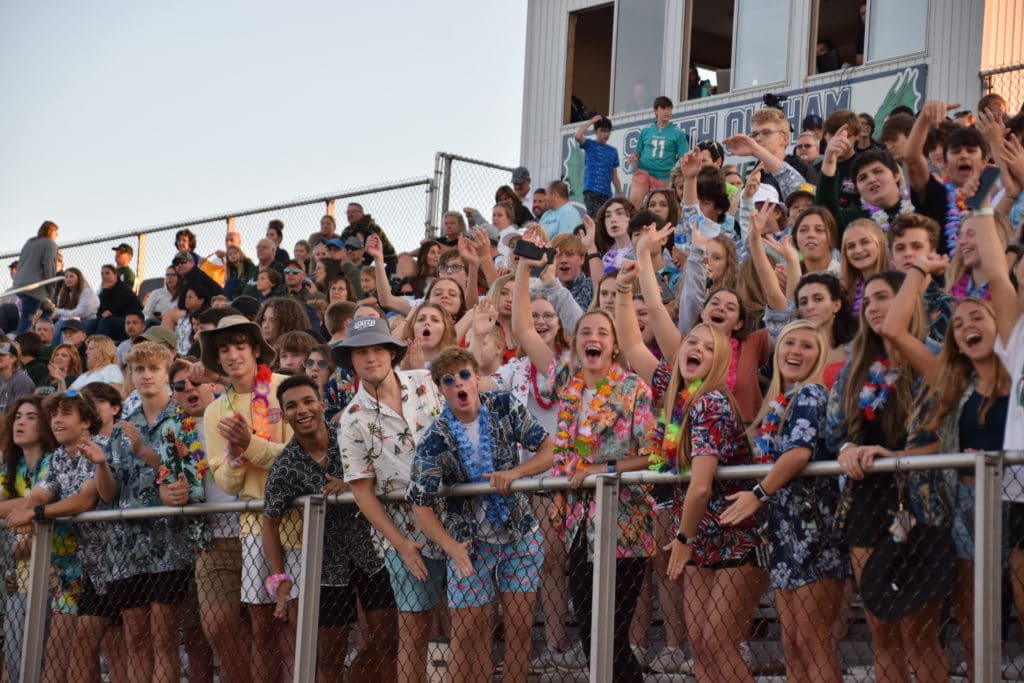 The football team kept its end of the bargain, invoking the running clock less than 16 minutes into the game en route to a 63-0 romp.
The Dragon Lair kept its end of the deal, showing up early and staying long after the outcome was decided. It wasn't full at kickoff, most likely due to the 5:30 start, but by the end of the first period, there were few empty seats on one end of the home side bleachers.
That's a big-time student section. I caught up with two of the Dragon Lair's leaders Friday to see if they'd share some of the secrets to success. It turns out there's no secret, just a commitment to excellence and the effort that goes with it.
"We don't want anyone to come in here and have a bigger crowd than us," South Oldham senior Keenan Galloway said. "When we are on the road, we want to compete and have a good crowd."
It's not always been that way for South Oldham football. During my 34 years writing for The Anderson News, I made several trips to Dragon Field and saw my share of sparse crowds. To be fair, South Oldham was struggling on the field for many of those trips and, of course, fan support wanes in those times.
It all began to change when Jamie Reed came to town in 2010. On the field, the Dragons started laying the groundwork for a program that had won eight consecutive district titles before the streak was snapped last fall. In the stands, the changes followed. By 2014, when South registered a 52-43 win over Anderson – the Dragons' first in 10 tries – Dragon Field was smoking.
It still does today.
"Everybody has a lot of school spirit and we spread the word during the day, telling everybody to show up (at the games)," says Nathan Niebrugge, another South Oldham senior. "We always try to do better than the year before."
Reed and his team have taken notice.
"The kids are buying in and have just done a great job," Reed says. "Tonight, we had young ladies (elementary students) helping out with the dance squad. And their parents are with them. Our band is fantastic. I think we are doing it the way it's supposed to be done."
Galloway adds, "Since I was in the eighth grade, the stands have been filled."
That was the case on Sept. 17 when South hosted Oldham County. The Dragon Lair was decked out in black. "We always have blackout for OC," Niebrugge says. "They are our biggest rival."
Oldham County got its first win over South in 10 years, 28-20, but the Oldham community was the big winner. "That was unbelievable," Reed said. "Oldham County was the same way. They had the whole visitor's side packed. If we could have a crowd like that every week, we'd be like a small college."
What was impressive to these veteran eyes was how the Dragon Lair was still engaged long after the only question was the final margin of victory. Sure, they hammed it up for our Nikon, but we also caught some of those guys making noise when they didn't know the camera was pointed in their direction.
And, of course every great student section has its share of zany antics that only 15- to 18-year-old kids can devise.
South Oldham isn't the only school where the student sections are coming back. It's widespread and is one of the few positives brought about by the COVID-19 pandemic.
"I think everybody is just wanting to get out of their house," Niebrugge chuckled.
Reed agreed. "They've been locked in with COVID. They went a whole year without being able to come out to the game. Last year, we only let 150 people come out. So the kids are taking advantage of the opportunity to get out and love on each other and support the team. They're having fun in the student section. I just think they want to be around each other."
And having fun in the stands has made Friday nights a happening again.
Who has the best student section of all?
As we talked Friday night, several members of the South Oldham Dragon Lair asked if they were the best student section in the state.
Are you kidding me? Does anyone think someone who travels the area is going to answer that? I mean, really?
But then someone asked who else has good student sections. I can honestly say I have not seen a weak student section at a home field in 2021. That's probably because everyone is just getting out again after being cooped up by COVID shutdowns.
South Oldham was awesome Friday night. The same could be said for the Oldham County Colonel Nation when I saw their game against Shelby County on Aug. 27. Both were loud and both were engaged even though their teams won easily.
I was at North Oldham on Sept. 10 when the Mustangs hosted South. The Mustang faithful were loud and proud that night.
And I have attended two games at my hometown Anderson County this year. The Bearcat Den has continued to fill one end of Warford Stadium even though the team has won only once in the last 19 games.
What matters is getting out and supporting your team on Friday nights. It's fun and the best bargain in town. You'll be glad you did!