Rebels carry championship attitude even when playing over-matched opponents
By John Herndon for GLICOD
Boyle County just keeps rolling along.
Make that steamrolling along toward what the Rebels hope to be back-to-back state 4A championships.
Friday night, the Rebels demolished district foe Anderson County, 56-0, in Lawrenceburg. Frankly, it could have been worse. The Rebels had the ball seven times in the first half and had seven scores to show for their effort. They scored on long touchdown strikes and on powerful drives. Defensively, the Rebels never let Anderson get close to the end zone. .
Admittedly, Anderson is in a major rebuild and has lost 20 of its last 22 games. The Bearcats were no threat to put a blemish on Boyle's record, now standing at 7-1.
But that overwhelming favorite status revealed an indicator of Boyle's drive to another state championship. It was pedal-to-the-metal when the Rebels had the ball and swarms to ball carriers when Anderson tried to move. When Anderson's game-opening drive saw the Bearcats turn the ball over at their own 17 on a bad snap in punt formation, Boyle needed just three plays to score.
It was the "stop-us-if-you-can" mentality that champions always possess. Boyle has it in abundance.
"Our team talks about championships all the time," second-year Boyle coach Justin Haddix said. "If you want to win a championship, you have to give a championship effort and play like a champion every time you are out there.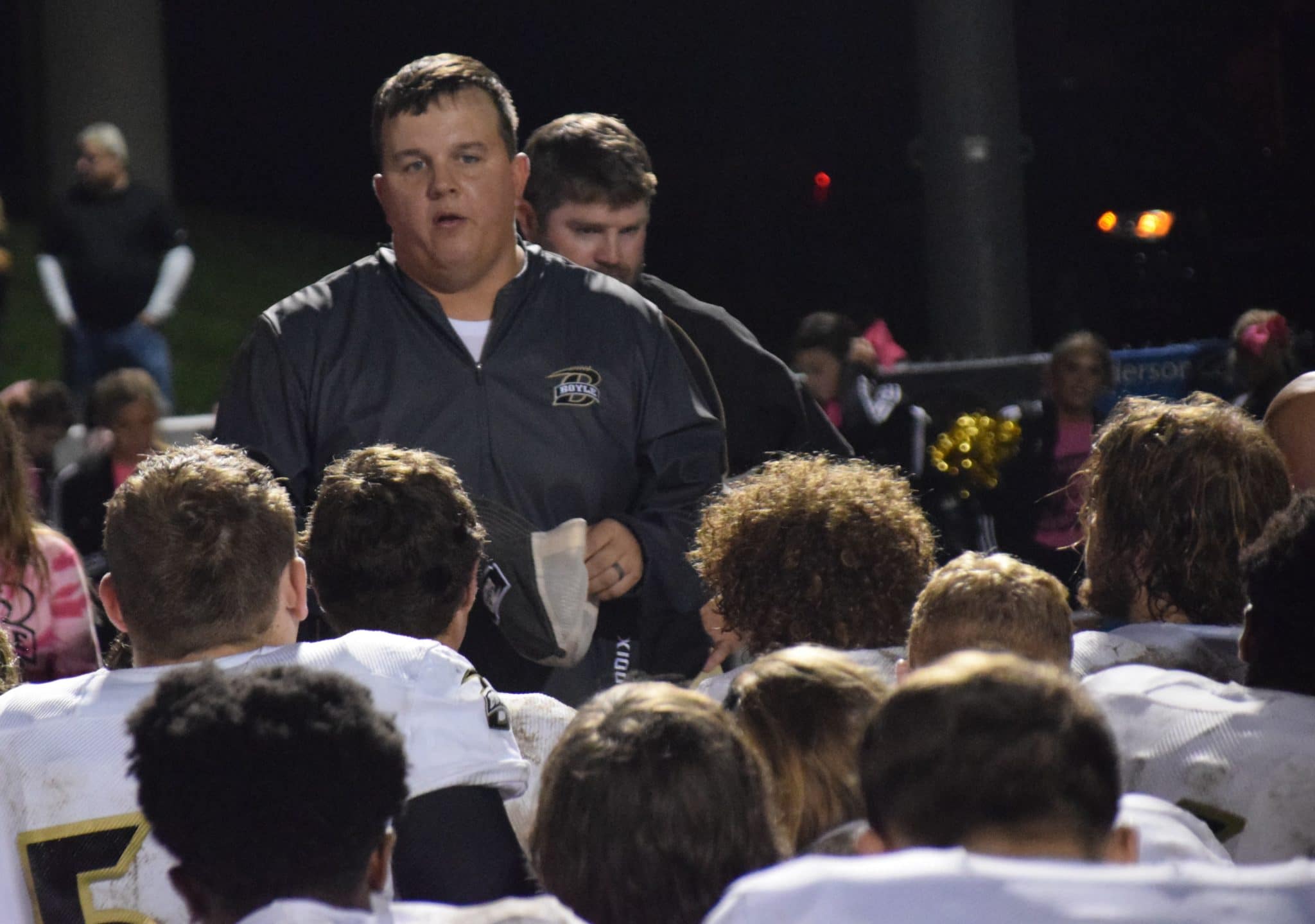 Haddix knows. He guided the Rebels to the 4A title and an 11-0 record last year, and had taken two Corbin teams to state runner-up finishes. As a high school player, he led Breathitt County to the 2002 state title, and set a state record with 58 touchdown passes his senior year. (That record has since been topped twice.)
Haddix also knows there can be a danger of taking a breather when facing an over-matched opponent.
We are talking about high school football, after all. We are talking about teenagers, who can be unpredictable.
But Friday, the Rebels were very businesslike from the outset. Haddix said he reminds his team they have a responsibility even when a victory is 99 and 44/100 percent certain.
"We say we are the lucky ones," Haddix smiled. "You've got to play the game. You want to honor the game by playing it the way it is supposed to be played and that's with great effort, intensity and execution."
It's an attitude Haddix developed during those days at Breathitt County, where he played for legendary coach Mike Holcomb. Holcomb took three state championships back to the mountains and he's come out of retirement to turn Madison Central's program around this season.
"When I was playing, he was coaching me," Haddix said of Holcomb. "He was hard on me and pushing me. Now that I am coaching, we share ideas. He's more like a father to me than a friend. I have learned a lot from him and from the great coaches I played for in college."
Haddix played collegiately at Western Kentucky for Coach Dave Elson and position coach Willie Taggart, who later led the Hilltoppers and four other FBS programs. While at Western, Haddix threw for nearly 8,000 yards and 50 touchdowns.
Today, Haddix watches fifth-year senior Jagger Gillis direct an attack that is putting just under 40 points per game on the scoreboard. His stats might not be eye-popping, but have been ridiculously efficient, hitting on almost 67 percent of his passes for 1,588 yards and 16 touchdowns in eight games. Friday, he connected for five touchdowns in 17 offensive plays.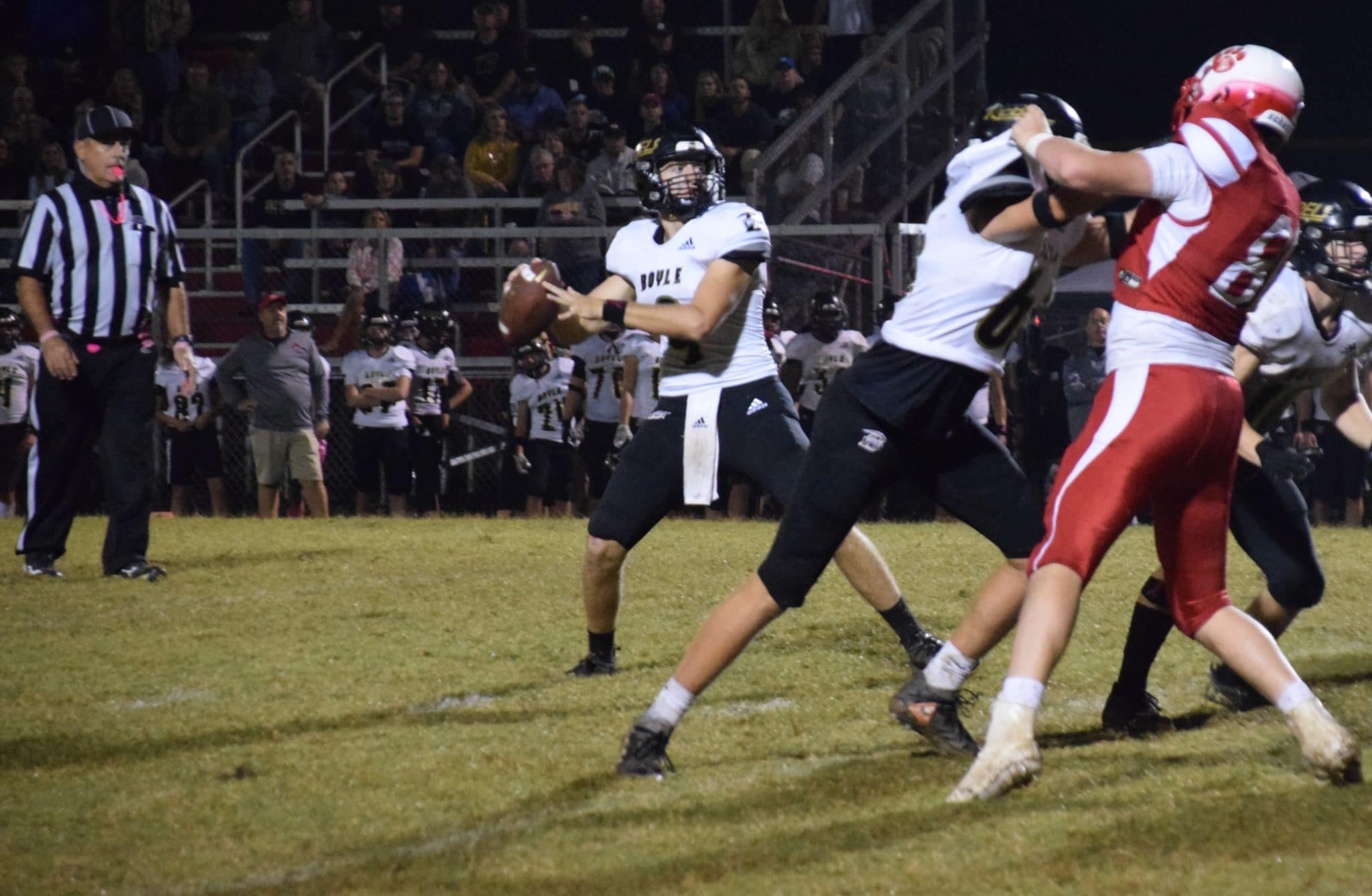 Gillis led the Rebels to the state title a year ago after transferring from Anderson County, throwing for 2037 yards and 25 scores. When the Kentucky legislature passed Senate Bill 128, giving students an opportunity to return to school for an extra year, Gillis took advantage.
"I think Jagger has matured, especially his leadership ability," Haddix said. "He came in late last year with a new system to learn. He was our starting safety and starting quarterback. Now, he's the starting quarterback. He's a linebacker. He brings energy every day to practice and he's picked up on some things. He went from a run-heavy style offense to having to control our spread. I put a lot on the quarterback and he's picked everything up.
"He's Mr. Football, in my opinion."
But Gillis is not alone. Senior Cole Lanter has his coach's vote as "the best receiver in the state," while kicker Jackson Smith, has committed to Kentucky, where his father, Andy, was an All-SEC punter. Jackson Smith also plays linebacker at Boyle.
Since Boyle ascended to the realm of Kentucky's elite football programs in the late 1990s, the Rebels have been dominant among the mid-size schools in the state. After Friday's win, they've gone 261-43 with nine state titles since 1999.
According to the RPI, Boyle is again at the head of Class 4A with district rival Lexington Catholic, which Boyle defeated 16-10 on Oct. 8, ranked second. The two are sure to meet again in the second round of the playoffs. The Associated Press and the Lexington Herald-Leader Cantrall Rankings has ranked Boyle second, one notch behind Haddix's former employer, Corbin.
The one mark against Boyle is a 35-28 home-field loss to Lexington Christian on Aug. 28. The Rebels have responded with six straight wins by 33.5 points per win. Boyle should have little trouble with Bourbon County this week but will travel to Frederick Douglass for a monster season finale on Oct. 29.
Boyle will likely open the playoffs with a home-field rematch against Anderson.
Haddix knows there are variables that can come into play and the championship grind is five long weeks of playoff games. Does Boyle have what it takes to repeat?
"I think so, but you know every team is different," he said. "We have some different kids from last year to this year. That team (last year) was the first championship team I have had as a coach. I think we are getting there, bu t you have to make your own breaks and you have to have some breaks."
Regardless of the final outcome, that championship mentality has the Rebels ready for another title chase.
And Justin Haddix is savoring every moment.
"This team has been a joy to coach," he said.