Titans' lineman made Senior Night extra special
By John Herndon for GLICOD
If you are a high school football fan and haven't made your plans for Friday night, Nov. 5, you might want to consider heading to Collins High School for the first round of the Kentucky Class 5A playoffs.
Collins will host West Jessamine that night and no, it won't be an early playoff showdown of state championship contenders. While Collins stands at 7-2, West Jessamine is a deceptive 4-4 going into the final games of the regular season this Friday. Neither is considered a threat to be playing at Kroger Field the first weekend in December.
Realistically, the winner won't be given much chance of advancing past a possible rematch with Woodford County in the second round of the playoffs, either. Woodford reached the running clock against both teams in their regular season games.
But if last Friday is any indication, West Jessamine at Collins, Round Two, should be a blast.
When they kicked it off Friday night in Shelbyville, It was already a near-certainty that the teams would be lining up against each other in two weeks. The only missing detail was where. Friday's winner would get that honor.
Collins prevailed, 35-34, holding off a furious West Jessamine rally and then killing off the final 3:19 to earn the home field advantage in the rematch.
"That was as fun game," Collins coach Jerry Lucas said. "We were up 21-7 at the half and I thought we had an opportunity to put them away if we go down the field and score (on the first possession of the third quarter) but we didn't. We had a couple of penalties and had to punt. So they go down the field and score. Then we immediately turn it over and they score again to tie it."
Collins got a monster game from junior quarterback Kenyon Goodin, who ran for 156 yards and completed 13-of-19 passes for 146 yards. Goodin, the state's top passer in Class 5A, now has 2,176 yards and 27 touchdowns through the air.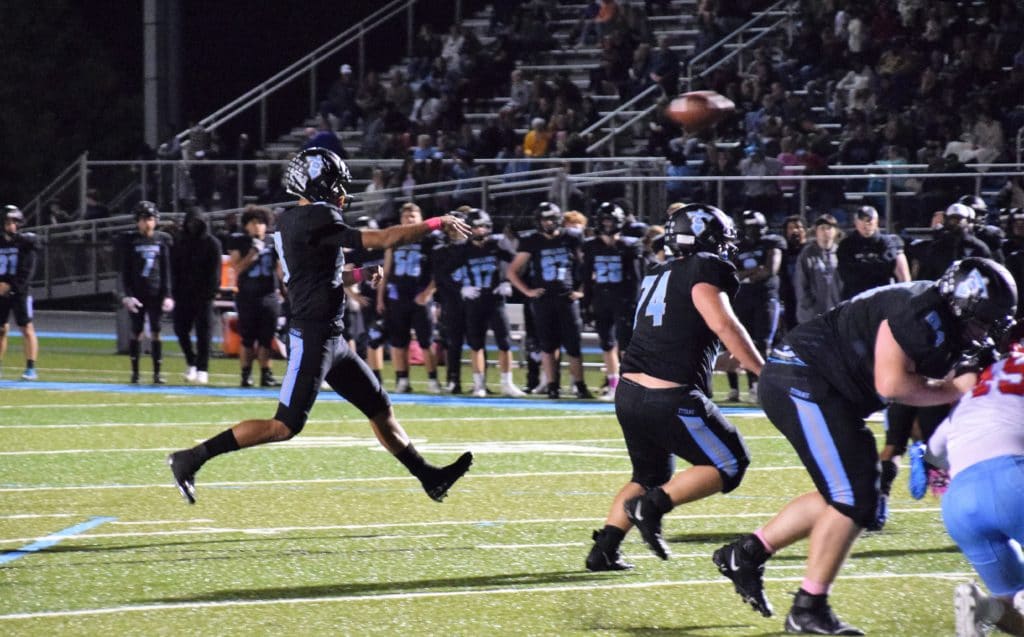 The Titans needed every inch of Goodin's 302 yards as West Jessamine signal-caller, Jacob Jones, another junior, almost matched him yard for yard. Jones completed 12-of-20 passes for 134 yards and a touchdown while running for 93 yards and three scores.
Collins surged ahead 35-21 when Goodin willed his way to score from 15 yards out, then hit Mark Hutzel for a touchdown pass on the opening play of the fourth quarter. It meant that Goodin was responsible for five touchdowns on the night – three running and two passing – to give him 45 on the year.
"He's so much fun to watch and such a great kid to start with," Lucas said of Goodin. "It amazes me that you are talking about a kid who was a sophomore last year and was an all-state wide receiver and now he's playing quarterback. He's such a hard worker and such a humble kid. He's a great teammate and that makes it even more special to me. He's a kid that likes to get the ball to his teammates to get them involved, but when he has to make the big play, he goes out and makes the big play."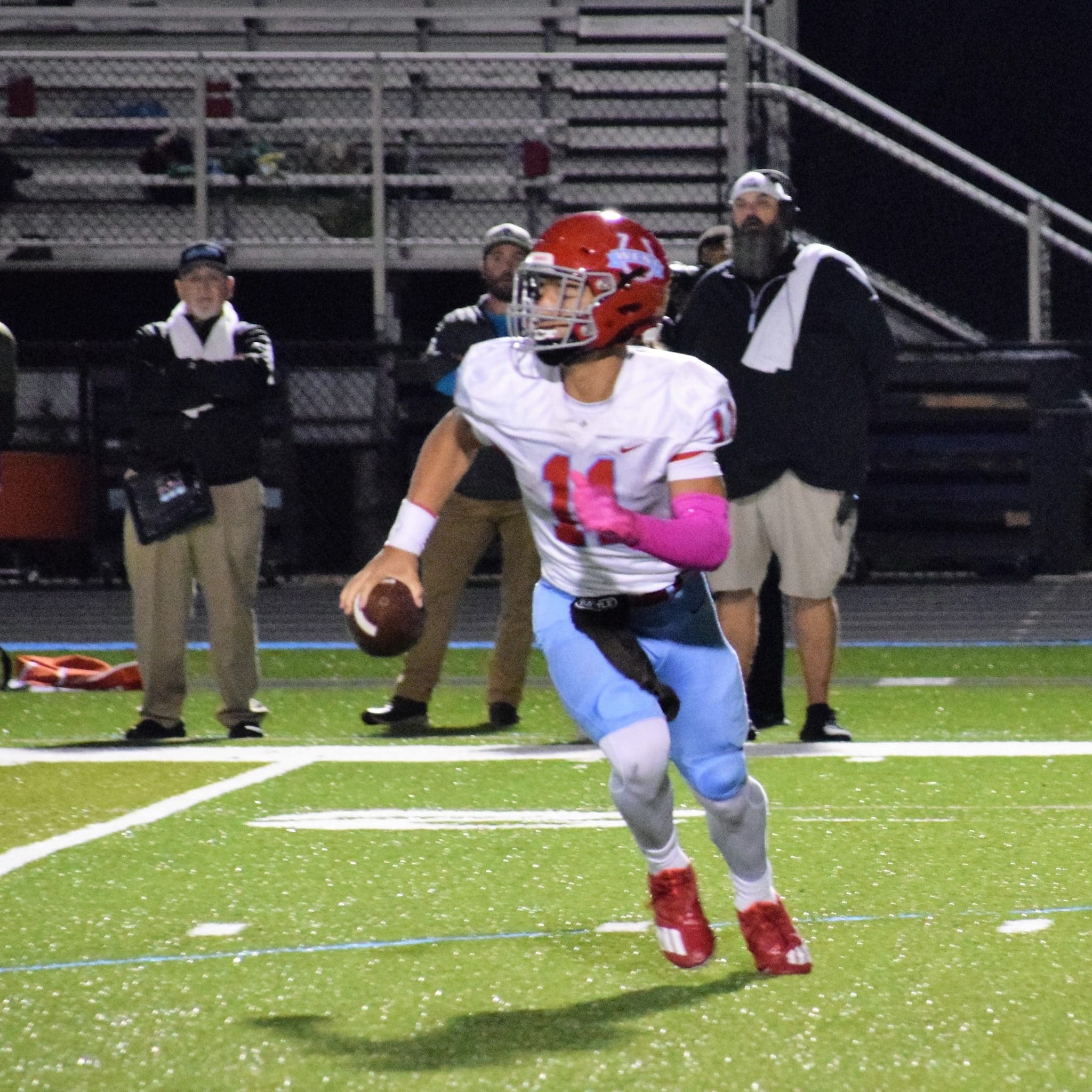 But West Jessamine rallied again with the Colts' own outstanding quarterback, Jacob Jones, running six yards for a score then leading a drive that ended with Bryce Chestnut's one-yard plunge. Unfortunately for West Jessamine, Isaac Maynard's extra point attempt went wide right.
Collins was able to run out the clock, converting a key fourth-and-one at the West Jessamine 47 in the process.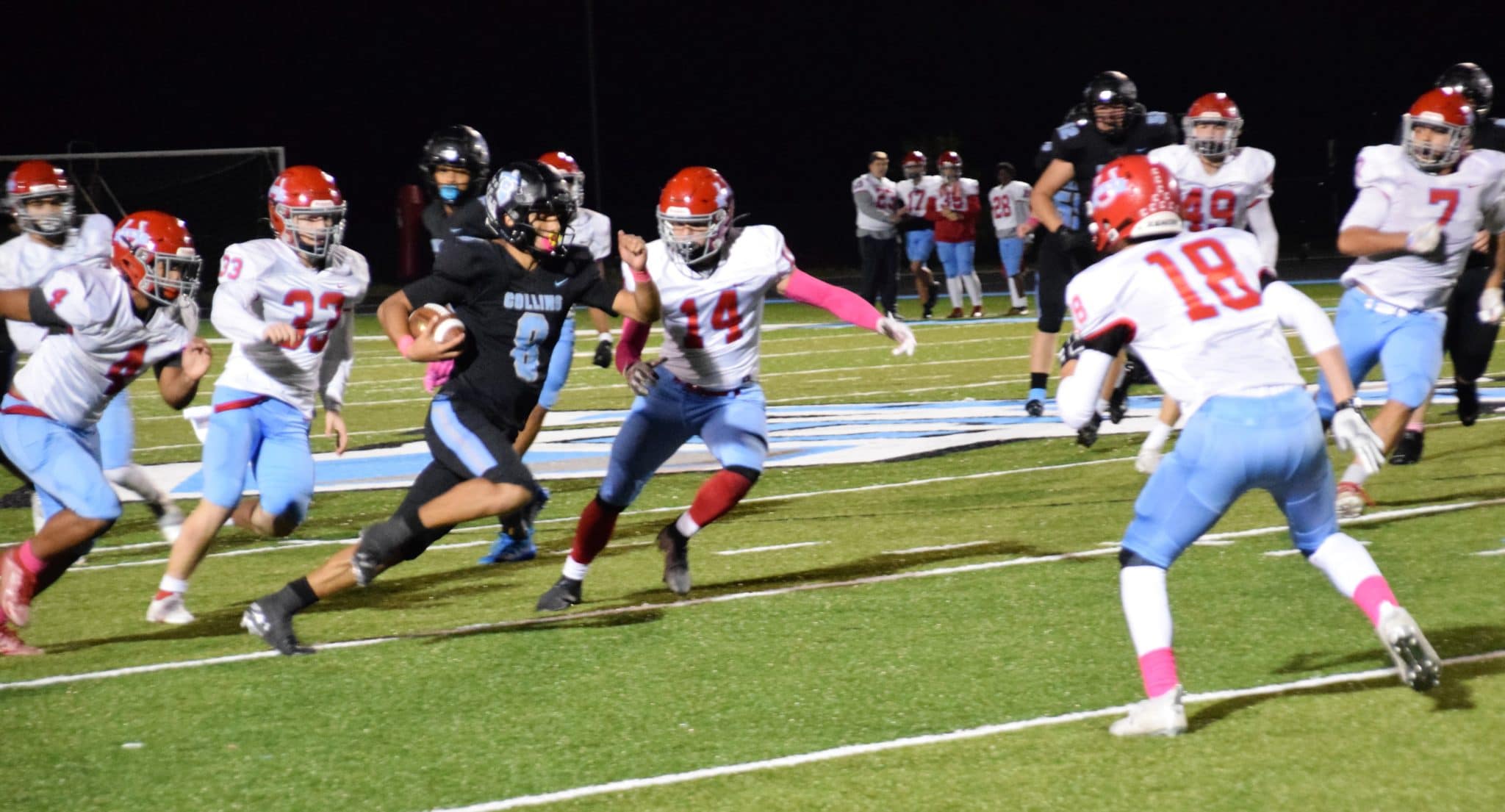 "There were times when we played good defense and there were times when I thought their kids just made plays," Lucas said. "There were times when I thought we had them stopped and the Jones kid just went out and made a play.
"I was very impressed with him too. If you are a fan of high school football and you come out and watch these two kids play on the field tonight, it was very special."
Indeed.
And when West Jessamine drew within 35-34, it was Goodin making the special teams play. Coming off his end spot, Goodin hurried the extra point attempt. "And he went and got me a drink of water and made a little popcorn in the concession stand," Lucas quipped.
In what became a chess match of clock management between Lucas and West Jessamine coach Scott Marsh, the Titans needed still needed one more first down after the fourth-down conversion. Goodin got it on the next play, rambling 16 yards.
"I thought we would just put the ball in Kenyon's hands and say 'Let's go!'" Lucas said of the Collins strategy to kill the clock with a one-point lead.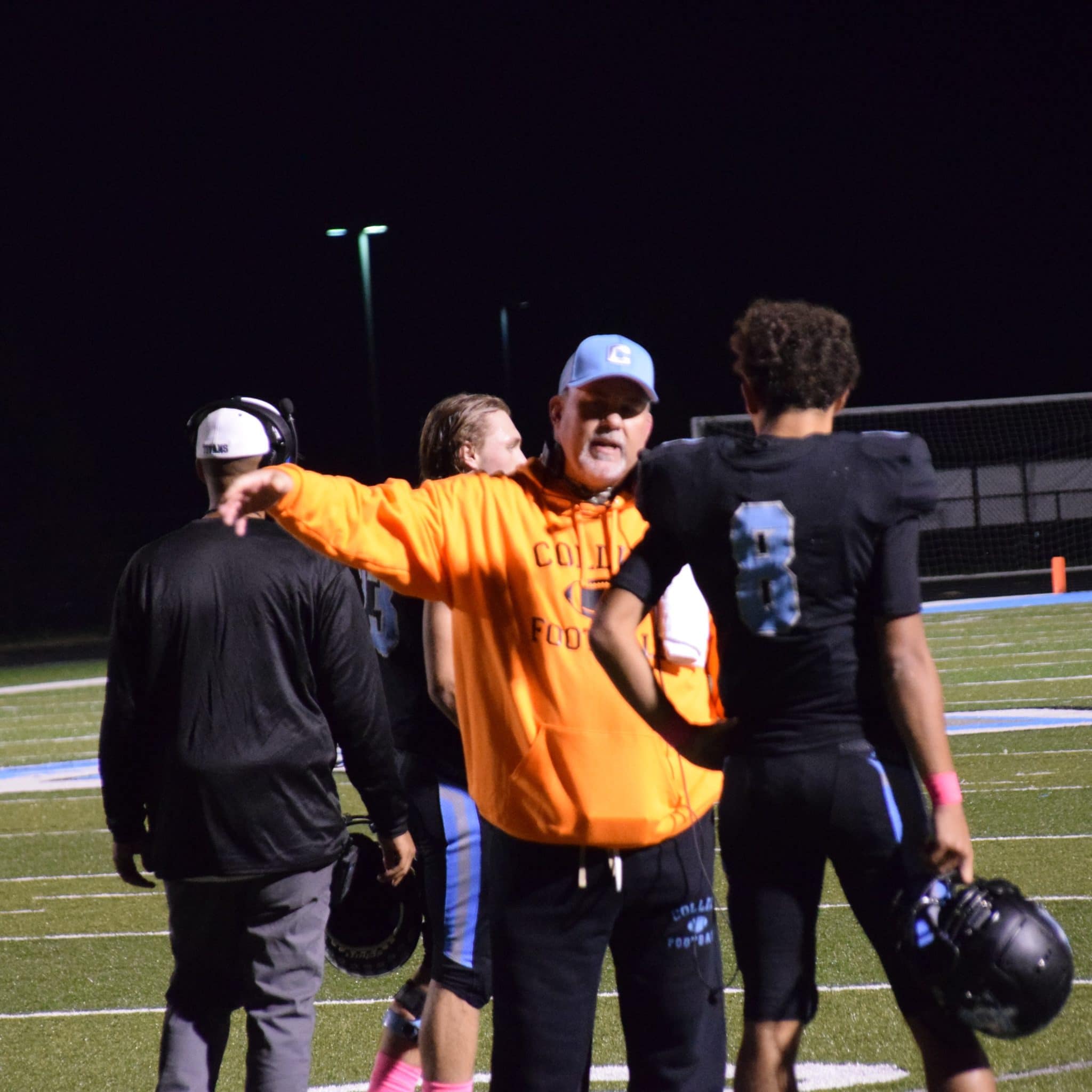 When the teams meet again on Nov. 5, it could be another nail-biting shootout between a pair of pretty good football teams that might be flying a little under the radar. Collins' only losses have come to Woodford County and Spencer County, teams that have won district championships. In addition to Friday's heartbreaker, West Jessamine has fallen to Woodford, defending Class 3A state champion Ashland and an 8-1 Southwestern team.
Lucas could only smile about the prospect of the Titans and Colts meeting again so quickly.
"That should be a fun game," he said. "Tonight there were big plays on both sides of the ball and great quarterback play for both teams. Tonight was a great high school football game. It was as even as it can be."
It could be more of the same in Round Two.
A Special Senior Night
My wife and I celebrated our 15th wedding anniversary earlier this year and even though Stephanie's been a real trouper, Friday nights and other game days have not always been easy for her. She's ridden with me to countless high school and college sporting events – it's a good thing she truly enjoys the games! — and has often adjusted her schedule to accommodate mine.
But when she told me she wanted to go to football Senior Night at Collins High School, I knew exactly where I would be on Oct. 22.
Even though we live in Anderson County and I covered Bearcat sports, she teaches at Clear Creek Elementary School in Shelby County. It is a school that feeds both Collins and Shelby County high schools and it's not uncommon for one of her former students to come give her a hug and strike up a conversation when we are out.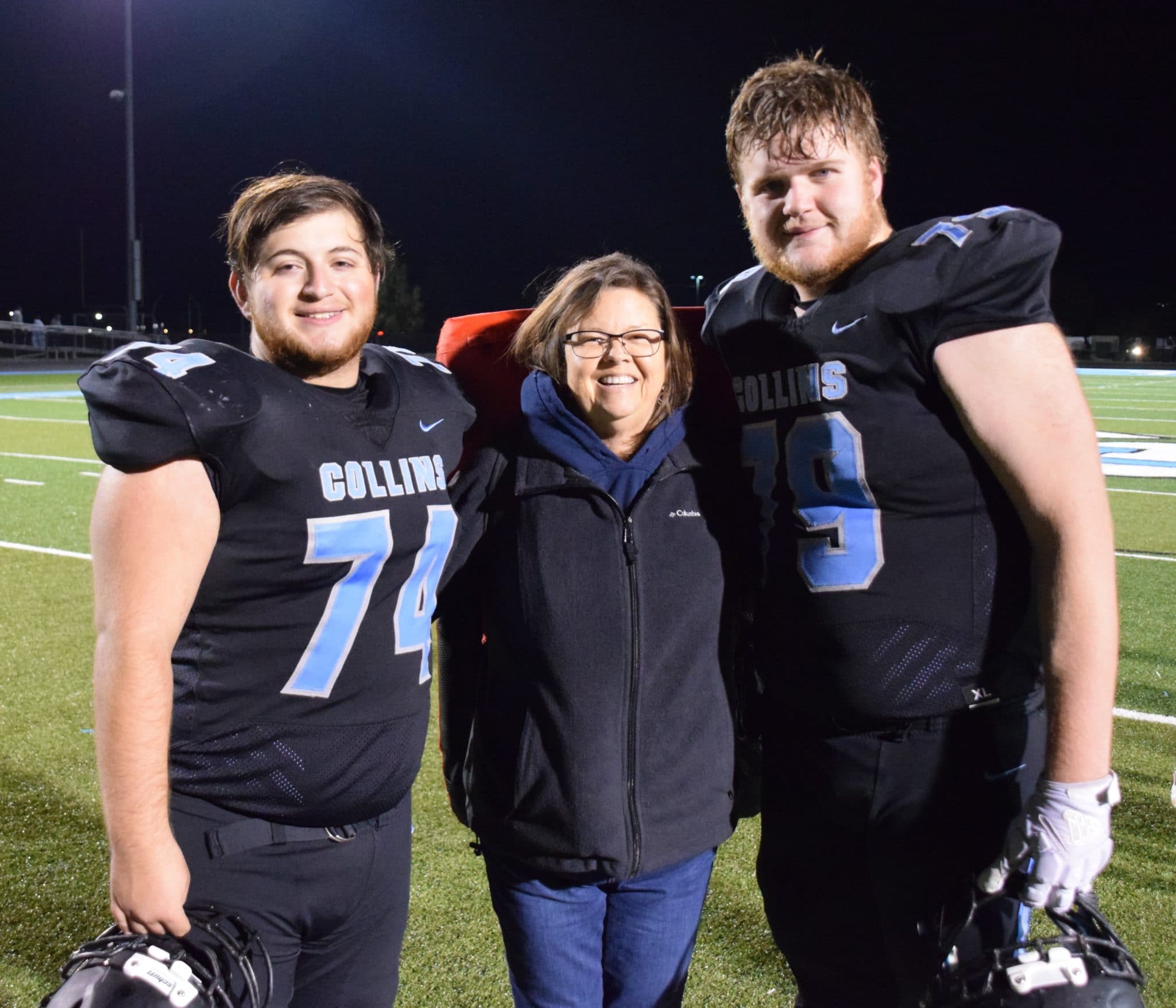 When she ran into Collins senior lineman James Terhune recently, he mentioned the Titans' Senior Night and asked if she could attend. The smile that was across her face as she told me cemented the date on my calendar.
On every team, there are young men and women who can look back at people like Stephanie who have invested themselves into helping young people succeed. To have those young people reach out for their final home game isn't just nice.
It's special. Extra special.
Stephanie introduced me to Terhune and Allen Wilson, another of her former students playing his final regular-season home game, after the Titans hung on to beat West Jessamine.
"Allen and I both had her in the fourth grade," Terhune said. "It's always good to see every teacher who has made a great impact on your life."
Wilson added, "It was awesome that she was there."
But it was also awesome for teenagers to remember someone who had worked with them when they were much younger and smaller. Stephanie got big hugs and big smiles from two of the big guys in the Collins line. Terhune offered protection for Goodin from his left guard spot while Wilson, a defensive end, was in on six tackles against West Jessamine.
Terhune (5-11, 240) and Wilson (6-5, 280) both have opportunities to play college football as some of the in-state schools such as Lindsey Wilson, Campbellsville, Thomas More and Union are interested in their services.
And as they told me about their future plans, one of their elementary teachers stood by me beaming at their success on the football field and in the classroom.
Collins coach Jerry Lucas noticed too.
"You think about the people that made a difference in a kid's life and when a kid comes to his senior year in high school and absolutely know who they had in elementary school, it's like most of us," Lucas said. "You may not know them all but you know the ones that loved you and mad a difference in your life.
"That's special."
Very special indeed.