Special needs player teaches to laugh and love in all things
By John Herndon for GLICOD
TAYLORSVILLE, Ky. – McKinley Paynter made sure I got a fist bump Friday night.
Oh, I have been fist-bumped, high-fived, low-fived, gotten part of a Gatorade bath and just about everything else you could think of during my career writing about sports. They've usually been given in times of triumph, but sometimes given through the tears of defeat.
But I doubt any was ever more heartfelt than McKinley Paynter's fist bump.
Acting on the suggestion of McKinley's father, Henry County assistant football coach James Paynter, I had been talking with McKinley about the game and about his long scoring run after time had expired in Henry's game at rain-drenched Spencer County.
How did he feel after that touchdown run through the left side of the Spencer defense? "I love it!" he said with a huge smile.
I thanked McKinley after he answered a few questions about liking football – he does! – and loving his teammates – he really does! – and he turned to join his Wildcat teammates for their post-game meeting.
McKinley stopped, turned and came back with his right arm extended. It was fist bump time.
A few minutes earlier, Henry County had been on the short end of a 34-14 decision. The Class 3A Wildcats, who finished the regular season at 4-6, had seen why Spencer is ranked in the Class 4A Top 10. Henry did some nice things, but Spencer took control early and methodically slogged its way to the win in a driving rain.
But after the horn sounded, the teams lined up for one more play. Henry quarterback Sam Royalty took a snap, then handed off to McKinley, who broke through a hole in the Spencer defense to run 40 yards for the score. As an official raised his arms to signal the score, players from both teams mobbed No. 6 in celebration.
That's right. Both. Teams.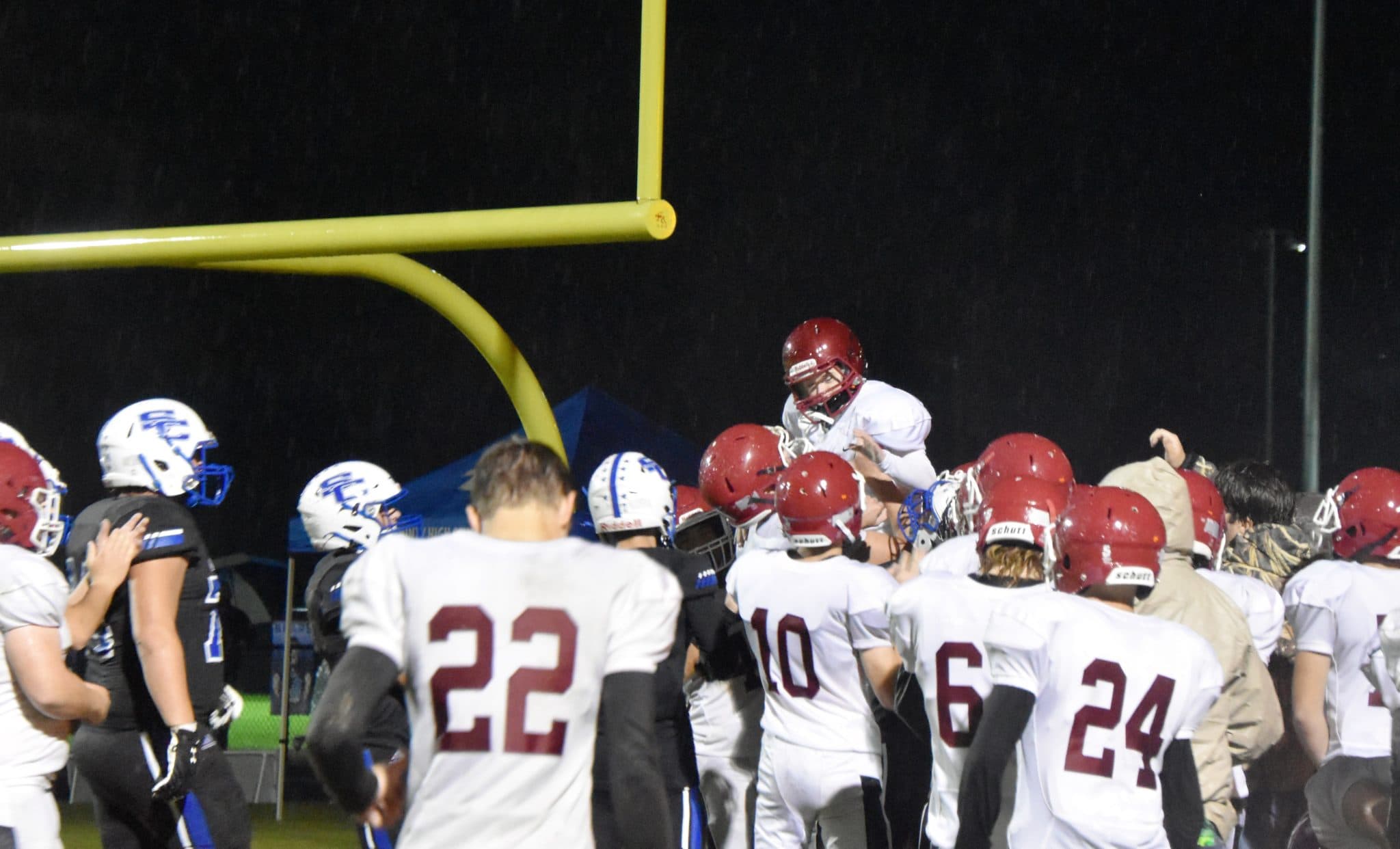 McKinley Paynter is a special needs student who has been around the Henry County program since his father started working with the team 10 years ago. It's McKinley's fourth year suiting up for the Wildcats, who make sure he gets his moment to shine every Friday night.
After running an extra play with the junior varsity team for almost three years, Henry coach Matt Wright brought the practice to the varsity level late last year. In 2021, McKinley has run for a touchdown after every Wildcat game, regardless of the outcome.
"That's my favorite part (of the games)," says Henry's senior quarterback, Sam Royalty, who also serves as a peer tutor for McKinley during the school day. "I look forward to it every week. I think McKinley is a special part of the team. It's great what he brings to the school whether it is in football or in school."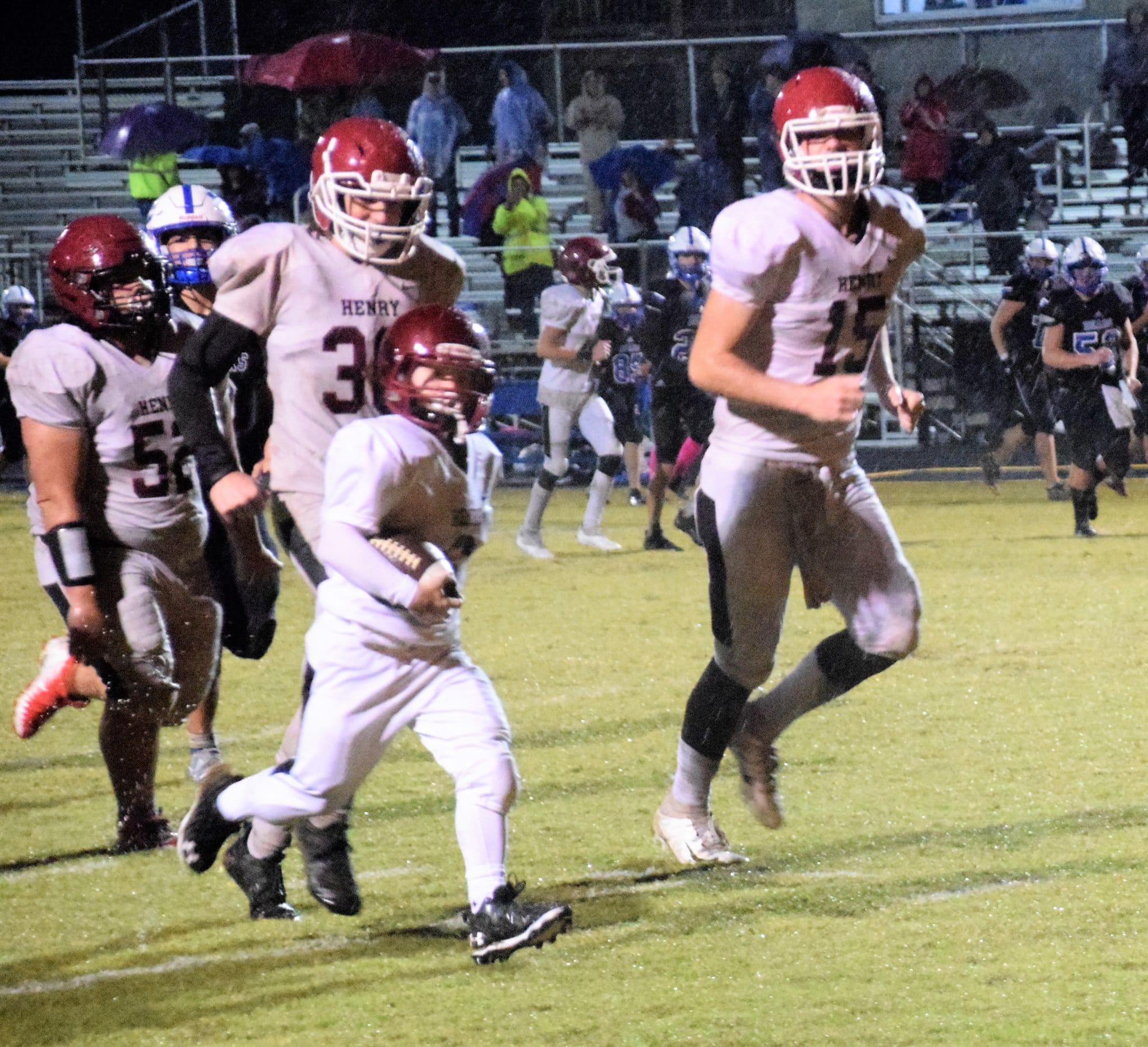 It can be that fist bump. Or a high five. Or an infectious laugh. But it's always positive, just like McKinley.
"He doesn't see anything negative," McKinley's father said. "We could lose 100-0 out there and if you ask McKinley, he would say we won."
Indeed. While Henry was trailing by at least two touchdowns for much of Friday's contest, McKinley was a model of enthusiasm and positivity on the sidelines. And as we briefly talked, his smile belied the fact that his team was on the short end of the score.
"The kids rally around him," Henry athletic director Stuart Dill said. "McKinley is really personable. He's high-fiving people around him all the time."
It's a trait not missed by Wildcat football coach Matt Wright, who is also a special education teacher and has McKinley in class. "The kids just see him as part of the team and they're glad he's there," he said. "I am with him all day and I see him all day. He loves these guys. He talks about his team."
As for McKinley, he just wanted to be around the Wildcat football team. "He started playing football for the New Castle Chiefs when he was in the third grade," James Paynter said. "He's been around football all his life."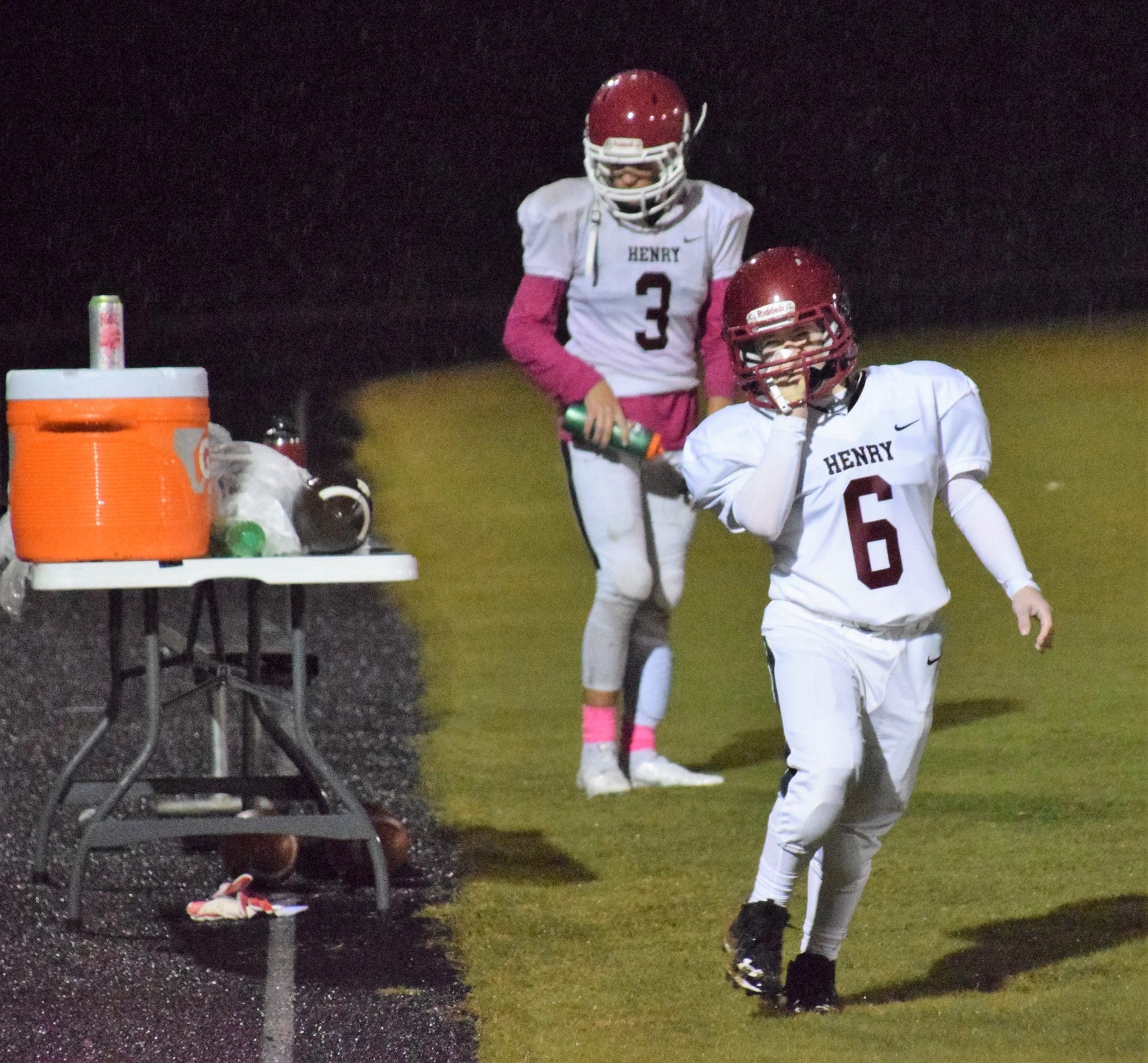 And yes, McKinley is as much a Wildcat as a defensive tackle or a wide receiver and the plan is to run his touchdown play as long as Henry is alive in the Class 3A playoffs. The Wildcats open the postseason at No. 1-ranked Christian Academy of Louisville on Friday, Nov. 5.
No opposing team has ever turned down McKinley's opportunity to shine. Spencer County was glad to defend Friday night.
"Football is a great game and we can use that to bring a lot of people together," Spencer coach Mike Marksbury said. "Our kids understand how fortunate they are to play the game. That was an exciting moment for that kid and our kids were super-pumped to be part of that.
"I love winning games, but we are here to teach the kids. To learn with them, grow with them."
Marksbury sees how special needs students impact others at his school and was enthusiastically supportive of Henry's special play. "Those (special needs) kids never have a bad day," he said. "They are special kids and they are a special part of our building. It's fantastic that (McKinley) is getting to experience what he's experiencing."
Wright has seen his own team learn to laugh a lot and love a lot from McKinley and has seen the extra play make a profound impact on both his team and its opponents. "We think the other teams are just as blessed by it," he said. "It's just a good opportunity to do something for somebody else. It's a little bit selfless and it's pretty awesome."
McKinley will be ready when Henry travels to Christian Academy of Louisville this week. Count on it.
"He knows when it's game day," his father says. "He knows he is wearing his jersey to school. He knows when it's time to get on the bus to leave. He gets his stuff ready."
And James could only smile as he related how McKinley reminded him there are times when he's a son and times when he's a Wildcat.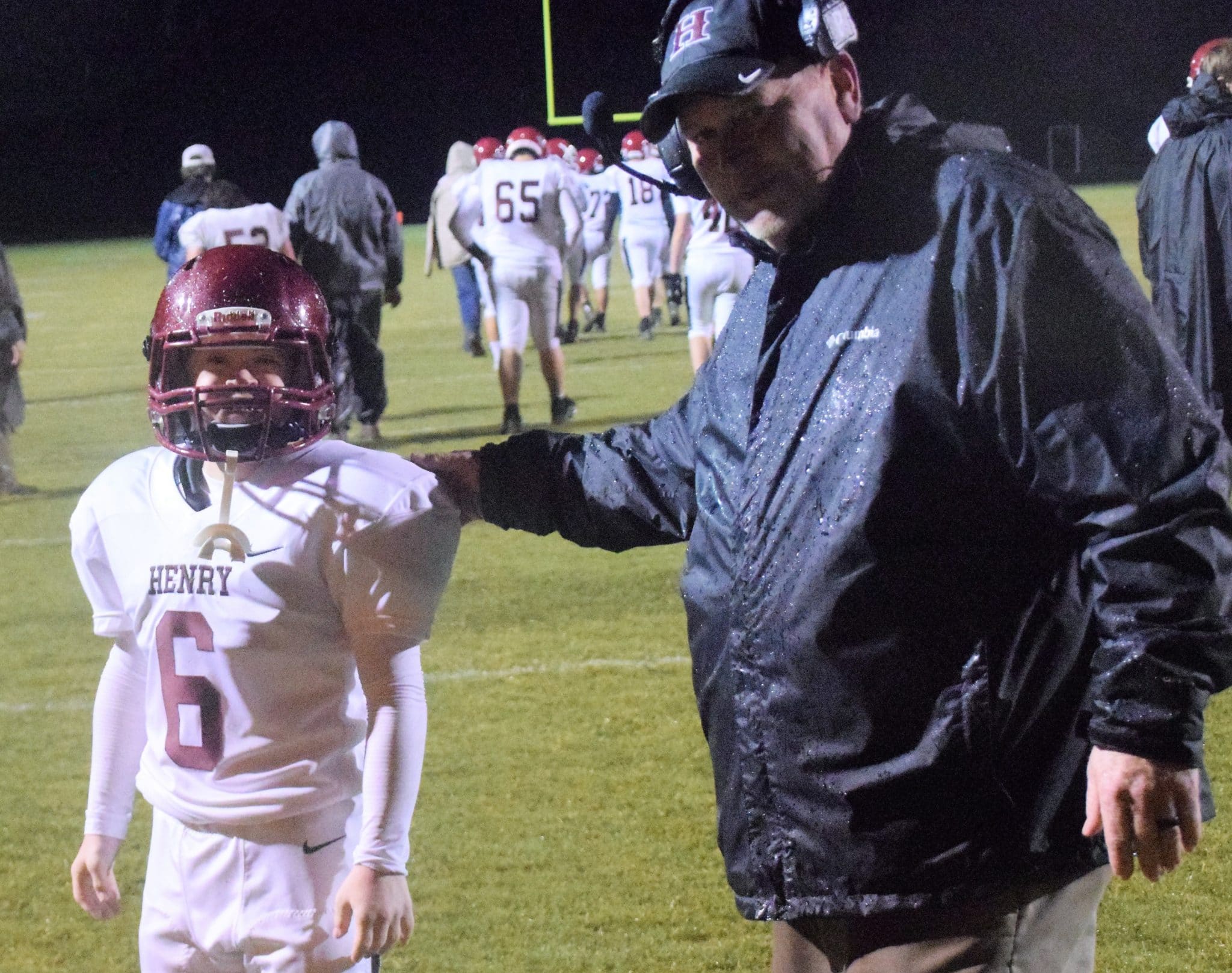 "Last week, when we went down to North Laurel, we stopped to eat outside of Lexington on the way down," Coach Paynter recalled. "I went to sit down beside him. He told me to go sit with the coaches, that I wasn't a player, I was a coach. When it has to do with a football practice or a game of whatever, I am not his dad, I am a coach. I stay away. He's a player and he's a part of our team."
That has become very clear in the 2021 season. Videos of McKinley running for his touchdown have been showing up on social media with regularity but are often posted by the opponents who are sometimes experiencing the joy of a small gesture making such a difference for the first time. At Henry County, it's become a regular part of Friday Night Lights.
"Some of the other schools' fans might forget about it, but our fans know," James Paynter said. "They know McKinley's got his time. The student body, when we are home, they rush the field when he does it. Everybody gets to be a part of what he does. It's a big part of Henry County football."
You bet it is.
And it's worthy of a whole lot of McKinley Paynter fist bumps.