By John Herndon
For GLICOD
Every game is different.
Make that Every. Game. Is. Different. Period.
It seems like such a basic concept, but it is one that is often forgotten when football playoff time
– or March Madness or any kind of rematch comes around. When the final horn sounds to end a
first contest, the teams have to start getting ready for a second matchup. And in Kentucky high
school football the time gap between meetings can be only a few weeks, thanks to a decision by
the Kentucky High School Athletic Association to pair district rivals against each other in the first
two rounds of the state playoffs. It's been that way for the last three seasons.
Those first two rounds are very much like the district basketball or baseball tournaments, with
the main difference being that not every team gets into the postseason football fracas. Most do,
but if a district has more than four teams, anyone not in the top four goes home at the end of the
regular season.
And with 94 rematches across the state last weekend – two teams, Russellville and
Williamsburg in Class A, earned first round byes – there had to be some intriguing matchups.
I had seen Collins slip past West Jessamine on October 22 and Madison Central hand Oldham
County its first loss two weeks prior to that. With both rematches being in close driving distance
and expecting a pair of terrific games, it wasn't hard to decide where I would be headed last
week.
Again, I was reminded that every game is different. And they can be vastly different.
Thursday, Collins hosted West Jessamine in the Class 5A, District 7 matchup. Collins had
beaten West, 35-34 with the difference coming on a missed extra point late in the game. Collins
earned the district's No. 2 seed with West Jessamine coming in at No. 3. In that first one, Collins
seemed to be taking control, going up 21-7 at the half and having a chance to put things away
early in the third quarter. Instead, West Jessamine came back only to come up just short.
Somehow, you knew that last week had the potential to be another nail-biter. For more than 30
minutes, it was. Collins led 23-21 at the half with the only first half possession not ending in a
score coming when time ran out on West Jessamine's last march.
But West made things look easy on the opening drive of the third quarter to go up 29-23, then
took total control by turning an interception into another touchdown drive minutes later. The lead
grew to 43-23 before Collins gamely fought back. The hole was just too deep.
Even though the scoreboard showed West Jessamine taking over in the third quarter, one could
feel the momentum swing late in the first half as a holding penalty wiped out an electrifying
touchdown run from Collins' Kenyon Goodin. The Titans had to settle for a 40-yard field goal
from Ryan Koval.
West Jessamine took advantage. But what did the Colts do differently from two weeks before?
"Nothing, actually nothing," West Jessamine coach Scott Marsh said. Marsh said there were
some minor defensive adjustments because "we are so beat up" but nothing major.
The difference, according to Marsh, was that this time the Colts played "much cleaner." They
had few mistakes and got monster games from quarterback Jacob Jones (143 yards and two
touchdowns through the air, 121 yards and two more scores on the ground) and running back
Bryce Chestnut (154 yards, 3 touchdowns) to get their second shot at Woodford County this
week.
Things went back-and-forth until a pair of Collins turnovers in the second half. And the craziest
stat of all might have been the punting line. Neither team kicked away all night.
Two weeks prior, West Jessamine sputtered until the second half. This time it was Collins that
made the unforced errors, a pair of second half interceptions.
And that was the difference.
Friday, I was in Tomahawk Valley in Richmond as Oldham County tried to reverse its fortunes
from the earlier showdown. In that one, Madison Central led 16-15 late in the third quarter but
pulled away for a 31-15 victory. It could have gone either way but a crucial Oldham penalty
aided Madison Central's drive to go up 23-15, Then after driving into Madison Central territory,
Oldham had sputtered.
It stood to reason that the rematch in Class 6A, District 8 could be a classic.
Instead it was all Madison Central for 48 minutes, with the Indians moving on with a 42-9 romp.
On just the third play from scrimmage, Oldham fumbled on its own 28. It took Madison Central 6
plays and just over two minutes to take control with Brady Hensley scoring from a yard out.
Things then snowballed in the second quarter. Hensley rambled 72 yards for a touchdown, then
after Oldham began to show some life and had gotten a defensive stop, Madison Central's
Jeffrey Kinley picked up and fumble and raced 35 yards for a score to make it 21-0.
The snowball picked up steam as Oldham's next two possessions ended with an interception
and a fumble near the Madison Central goal line. Indian Brady Worrix stripped Oldham's Travis
Edgar of the ball after a 63-yard catch-and-run. Madison Central's Andre Smith picked up the
loose ball at the one and returned it 24 yards.
It might have been a microcosm of a night when something sweet often turned sour for Oldham.
"He was playing hard and not giving up on the play," Oldham coach TaShawn McBroom said.
"In hindsight you would like him to be a little more aware of what was behind him but he was
trying to make a play."
And you certainly can't fault anyone for giving that extra effort.
Unfortunately for Oldham, nothing went right. And yes, this time was much different.
For example, when the teams met on October 8, Madison Central quarterback Hagan Harrison
didn't complete a pass. Friday, he was 6-for-10 for 156 yards and a pair of touchdowns. While
the yardage the first time was 391-300 in favor of Madison Central, Friday it was a more
one-sided 422-234.
Five Oldham turnovers to none from the hosts turned what most people figured would be a
heart-stopper into a rout.
And it was yet another reminder that every game really is different.
---
The West Jessamine win over Collins was not the only reversal of the regular season around
the state last week. In all, nine games saw different results.
Among the biggest turnarounds were LaRue County's 42-28 win at Elizabethtown in Class 3A.
Two weeks earlier, E-town had beaten the Hawks 47-27.
In Class 2A, Covington Holy Cross registered a 35-29 win over Lloyd Memorial two weeks after
taking a 40-7 shellacking.
But the wildest reversals might have come in Class 4A, District 6, where fourth-seeded Harrison
County upset top-seeded Rowan County 34-21 after losing 50-28 in the regular season. In the
other district game, Scott High defeated Holmes 35-8 after Holmes had won 40-0 in the regular
season game. Harrison plays at Scott High this week.
As for Russellville and Williamsburg getting byes, both are in unusual situations. Russellville is
grouped in a rare 3-team district with Crittenden County and Fulton County in far western
Kentucky. Williamsburg is in a district with Pineville, Harlan and Lynn Camp in southeastern
Kentucky but Lynn Camp canceled the season after playing just seven games and having two
others called off because of Covid-19. According to the Corbin Times-Tribune, the school
canceled the season in week 10 because of "lack of players, injuries, grades and attrition." With
no other team in the district to take Lynn Camp's spot in the playoffs, Williamsburg got a bye.
---
The West Jessamine-Collins game featured two of the state's best junior quarterbacks.
Collins' Kenyon Goodin has been among the state's top passers all year. He closed out his
season with another big night, completing 13-of-20 passes for 214 yards and a touchdown.
West Jessamine picked him off twice. On the ground, Goodin ran for 182 yards and four
touchdowns on 26 carries.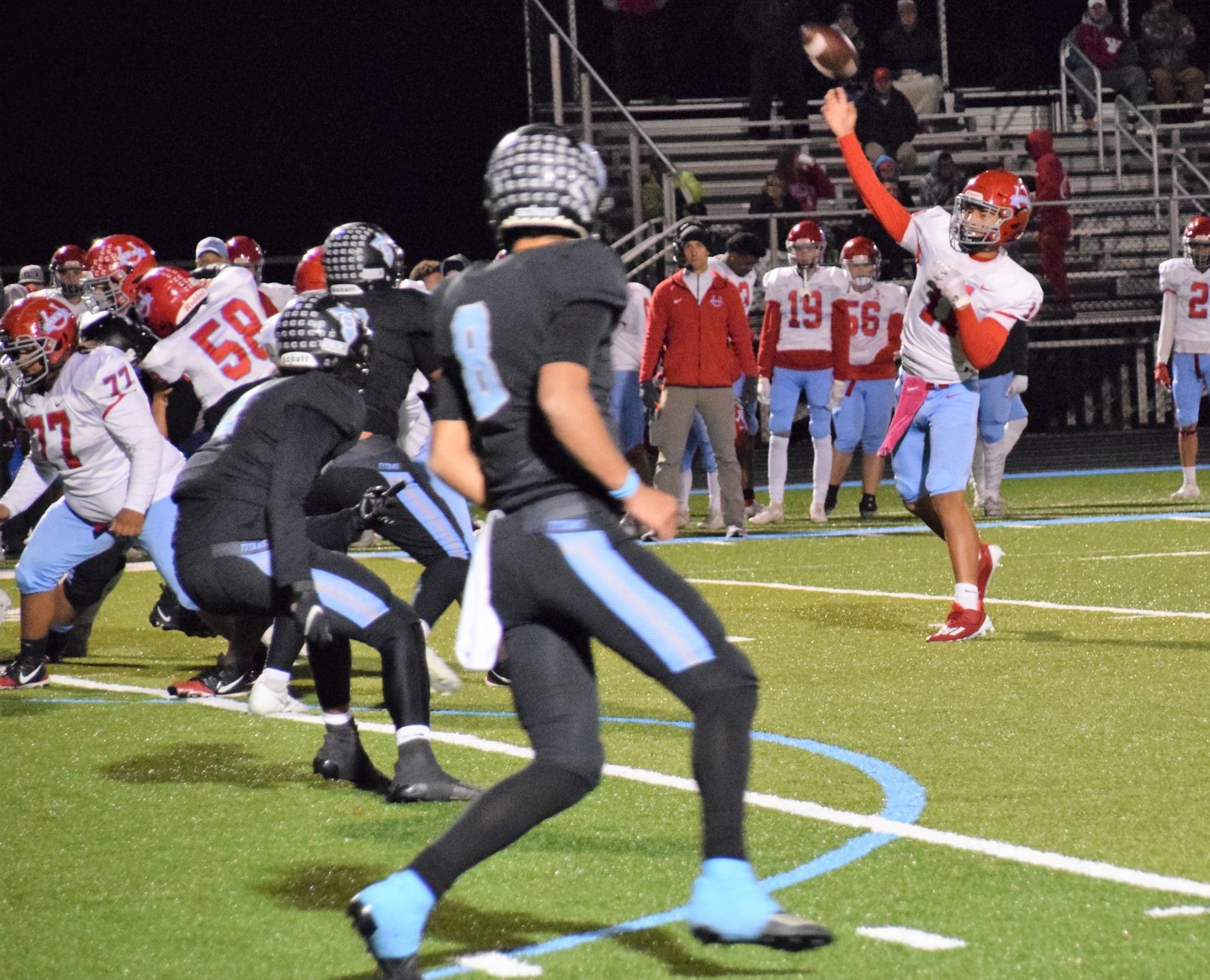 West Jessamine's Jacob Jones, the son of former Kentucky quarterback Pookie Jones, didn't
have the sheer numbers of Goodin but came through with big play after big play. Jones finished
9-of-14 for 143 yards and two touchdowns. On the ground, he picked up 121 yards and two
touchdowns on 17 carries.
As the teams parted ways from the post-game handshakes, Collins coach Jerry Lucas could be
seen talking with Jones for an extra moment. "I told him I thought he was a heck of a football
player and a great young man," Lucas said. "He put his team on his shoulders and I thought he
played a great game."
West Jessamine will be a decided underdog at Woodford County Friday, looking to reverse a
60-14 regular-season decision. While Woodford is cruising along at 11-0 following a 36-7 win
over Madison Southern in the playoff opener, Lucas, for one would not be shocked to see West
Jessamine make a game of it. "They are a hard team to stop," he said.
---
Oldham County's McBroom finished his first season at the helm at a stellar 8-3. Unfortunately
for McBroom, the Colonels reside in one of Class 6A's strongest districts with Bryan Station,
Madison Central and Oldham all ranked in the final regular-season Top 10.
McBroom, who had been an assistant coach at Oldham before ascending to lead the program,
quickly learned that things are different at the top. Rightly or wrongly, the head coach gets the
credit for the good and the blame when things go bad. That's just part of the job description.
And being at the top of a program, McBroom says one area of coaching is much, much different.
"One of the big things is making sure I am involved in all of the (positional) game plans," he said
Friday. "I have to make sure I have a hand in everything."
Oldham has some key graduation losses, including talented quarterback Sam Young, but the
feeling here is that the Colonels have found a good one in head coach TaShawn McBroom.