Kentucky signee Jenkins has strong supporting cast in quest for third straight crown
By John Herndon for GLICOD
LAWRENCEBURG, Ky. – Clay Birdwhistell was telling anyone who would listen that his Anderson County girls' basketball team is not the same one that made it to the state Final Four last year.
Not very many would listen.
Oh, the Lady Bearcats, who went 28-3 and spent most of last season perched in the top spot in all of the statewide rankings, did lose three seniors. Those three seniors scored almost half of Anderson's points and had been part of teams that had won 138 games – against 29 losses – over their varsity careers that had begun while they were in the eighth grade.
Sophie Smith (Georgetown College), Tiffany Riley (Asbury University), and Rachel Satterly (Freed-Hardeman University) all signed to play college basketball. Smith has been in Georgetown's starting lineup from Day 1, while Riley is getting more than 16 minutes per game at Asbury. Satterly decided to redshirt after several of last year's seniors returned to FHU under the COVID relief provisions.
"We graduated the winningest class in the history of the school," Birdwhistell says. "All of them are doing good things at the next level. They were perfect teammates. They were all capable of scoring 20 on a given night but they were just as happy if they scored two and we won. They just wanted to win."
So, yes, Anderson really will be a bit different in 2021-22 but if the first week of the regular season is any indicator, the machine is still taking the court in Lawrenceburg. And the expectations are the Lady Bearcats' season will end in Rupp Arena just like it has the last two years.
And even though Birdwhistell is sometimes fond of warning that the Lady Bearcats will have to beat quality teams to get back to the big show, he acknowledges that being different doesn't mean the expectations have changed. And he believes some kids who were coming off the bench last year will be household names around the 8th Region by March.
Birdwhistell breaks into a large grin. "We didn't exactly have chopped liver on the bench last year," he says.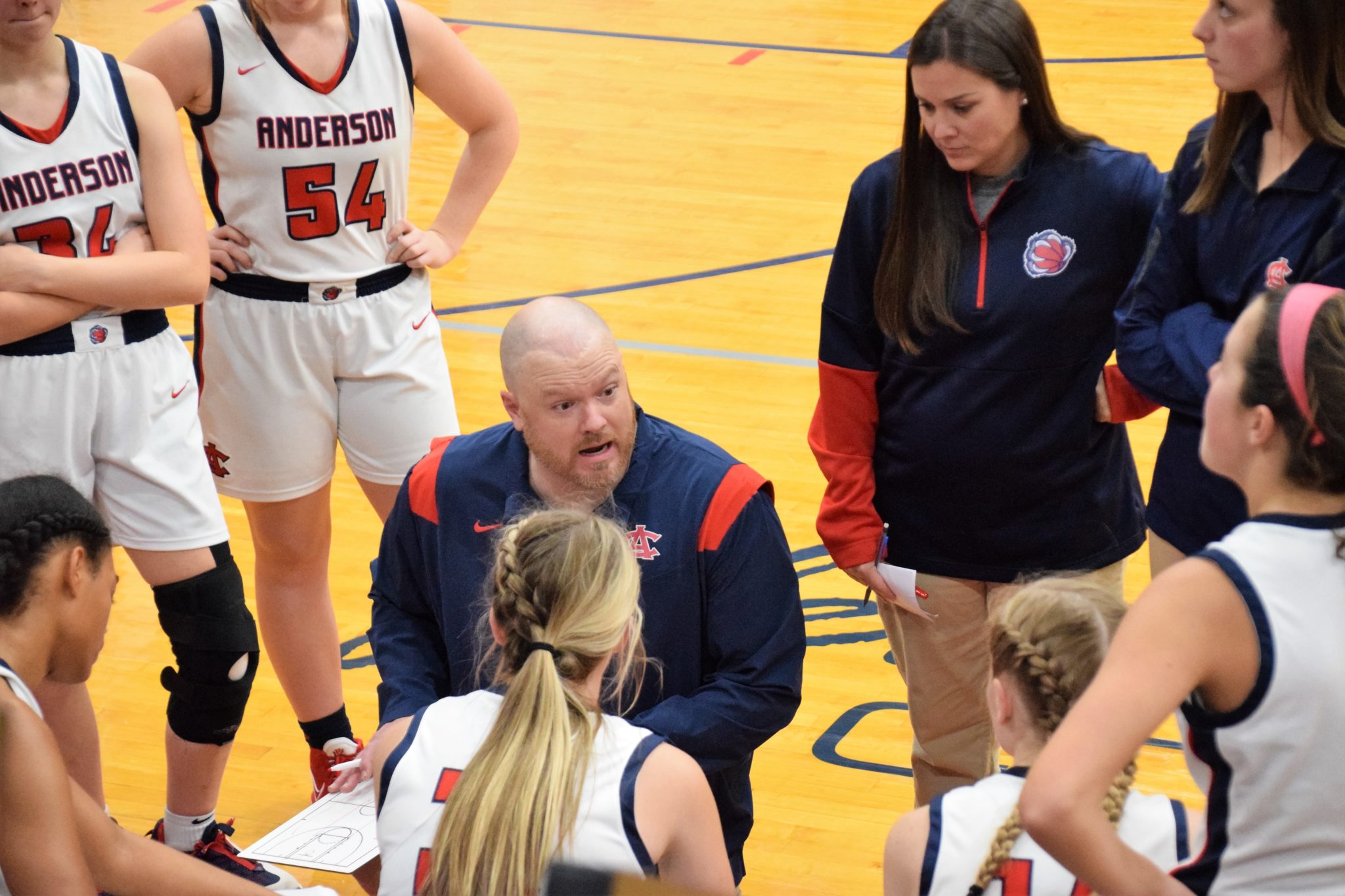 And he can smile broadly knowing that the early favorite to be named the state's Miss Basketball, Amiya Jenkins, is back for one more year.
No, Anderson County won't be the same as last year, but the Lady Bearcats are mighty good. In their first three games, The Lady Bearcats defeated Male, Collins and Nelson County by an average of 51.7 points per game. Male, considered one of the 7th Region's better teams, gave Anderson its "closest" game, an 87-54 decision.
The Lady Bearcats run and press. And they obviously have fun as they tune up for what should be their first real test against 30th District rival Spencer County on December 16. That one will be played on Anderson's home court and will be the first of what could be four meetings between the schools this season.
It all starts with Jenkins, who signed with the University of Kentucky during the early signing period. She's only the fifth Division I signee in the history of the program and, as a four-star recruit, the highest-ranked player in school history. She can slash, she can shoot the three, pass, and do anything necessary for the win. In the season opener, Male began to show some signs of life early in the third quarter, The 5-foot-11 Jenkins simply took over.
The athletic Bulldogs had no answer. It's doubtful many teams will.
"She's not bad," Birdwhistell says with a laugh. "(Jenkins) is the best player in the state. It's hard to argue against that. With all she can do with the ball, I have never seen a Miss Basketball candidate guard the other team's best player."
Jenkins usually does.
And though she will usually lead the offense as well, the Lady Bearcats have plenty of firepower, including 6-foot seniors Jacie Chesser (8.7 ppg last year) generally considered one of the top five players in the Eighth, and deadly shooter Paige Serafini.
"You look at a kid like Paige Serafini," Birdwhistell says. "She was on the bench and averaged about four points a game but hit some big shots for us. She was doing things the right way and has earned a basketball scholarship to Campbellsville (University)."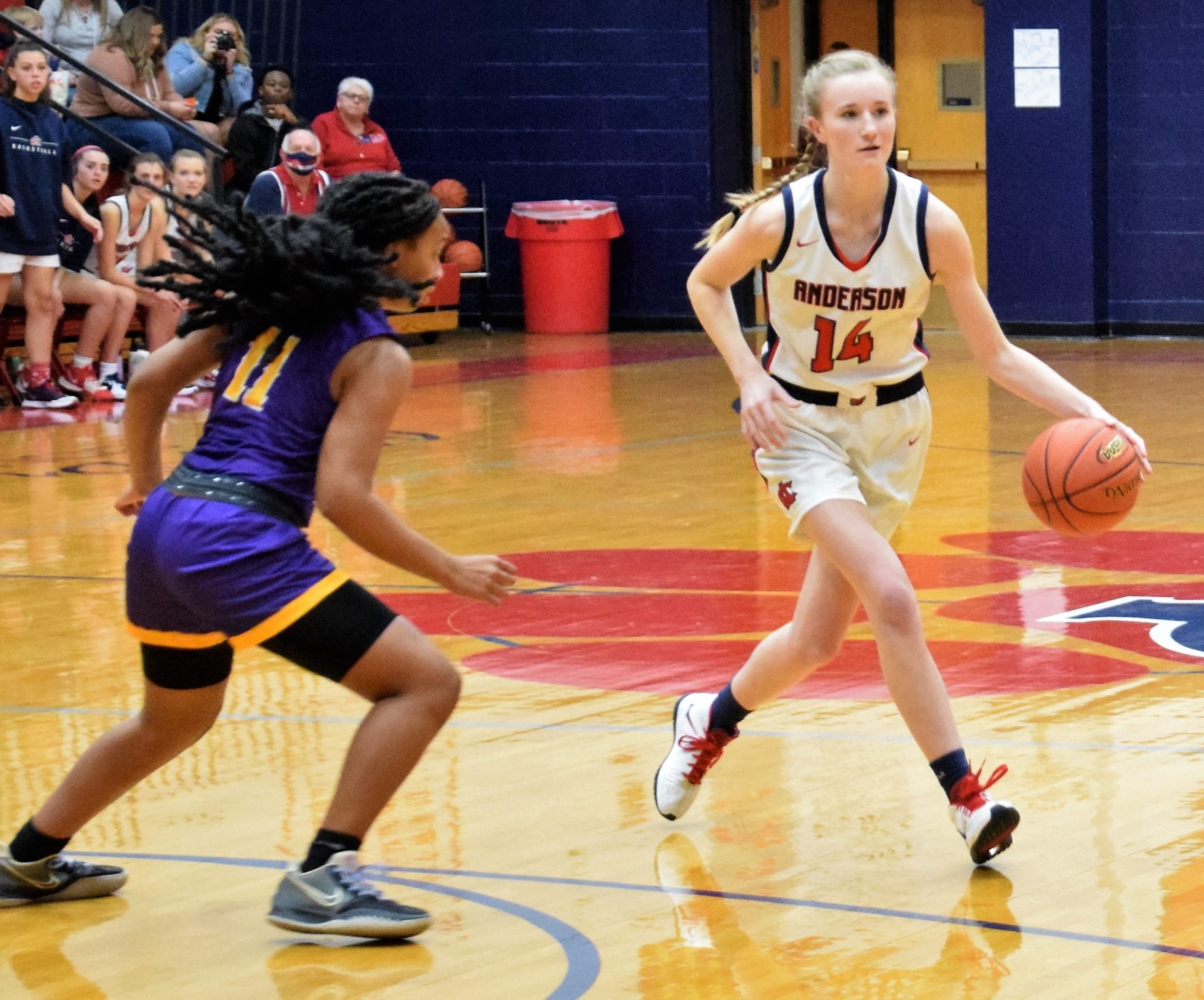 Serafini's most notable nights came when her three-pointer lifted the Lady Bearcats to a win at Sacred Heart and when she riddled Franklin County with four 3-pointers and 14 points in the state tournament quarterfinals.
Sophomore point Jenna Satterly (now 5-7) and freshman wing Lainey Johnson (now 5-11) have both grown significantly since last year and are ready to shine. "I have a backcourt a lot of people don't know about but I guarantee you they will know about them soon enough."
Those five saw plenty of action a year ago and Serafini, Satterly and Johnson gave Birdwhistell the luxury of bringing players off the bench that would have likely been starting at many of the other schools Anderson played. The question facing Anderson is where will the depth come from in 2021-22.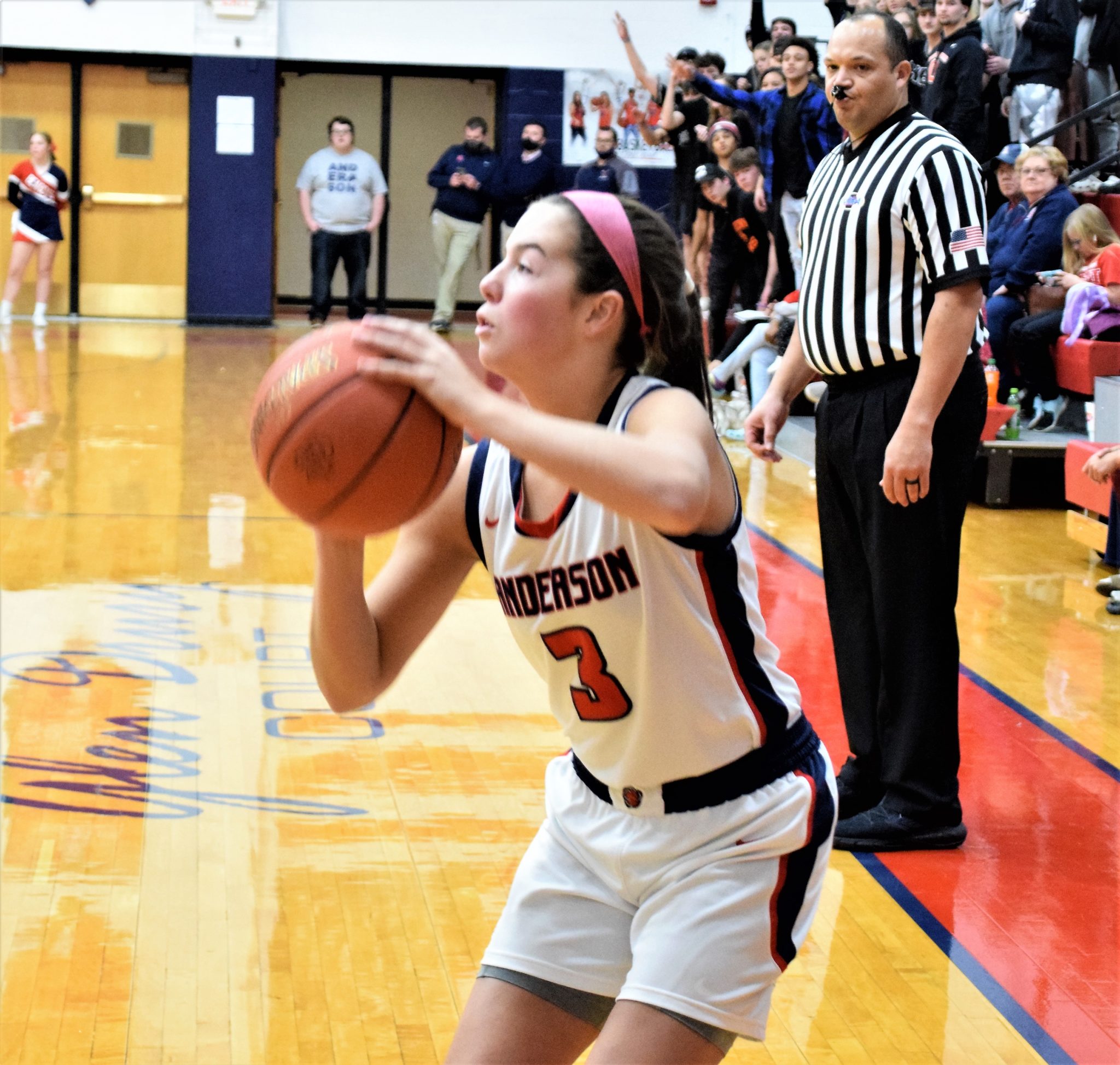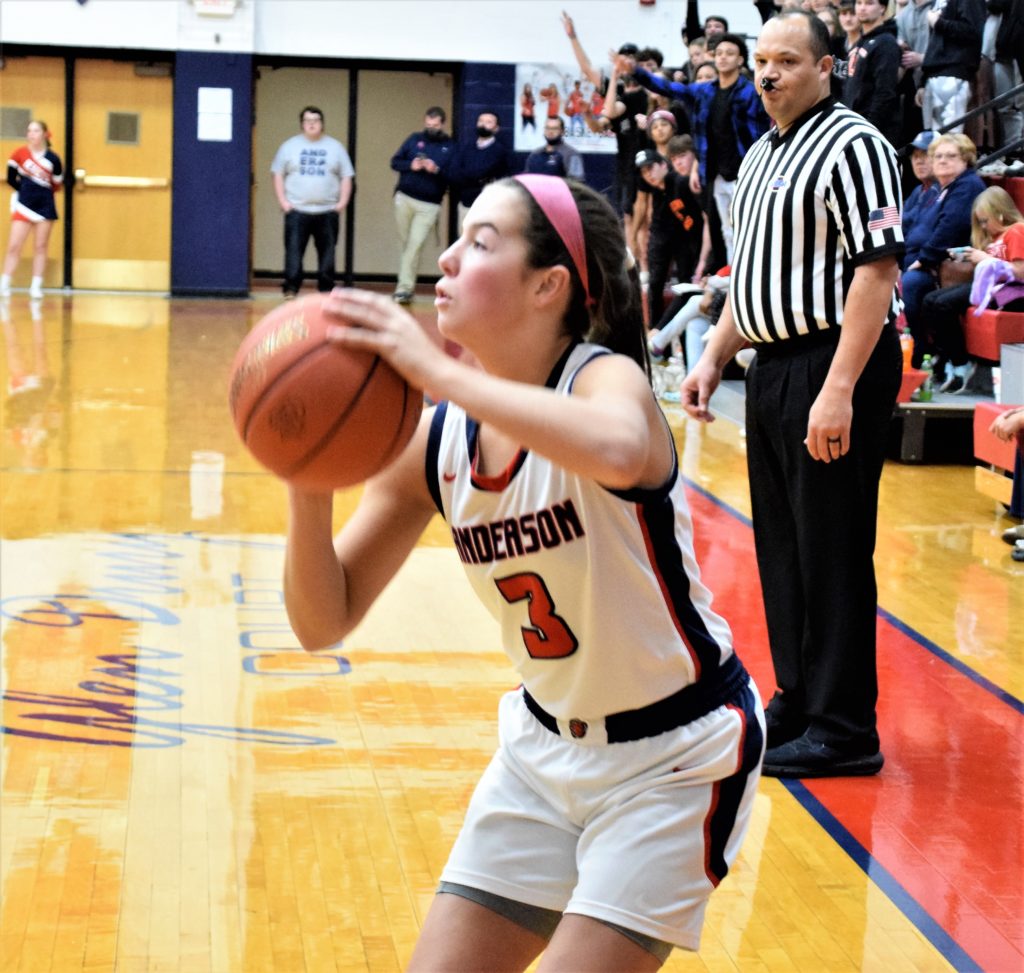 Birdwhistell is quick to answer, "I expect to go seven to nine deep."
He calls 5-9 senior Kinley Lucas "the best player in the region that no one knows about. She is athletic, plays hard and knows her role." Senior Peyton Baum (5-8) is also expected to see quality minutes in the front court. Both have signed to play college softball, Lucas at Georgetown, Baum at Campbellsville.
And, barring injury, the Anderson County domination of the Eighth Region should continue.
Anderson has won 22 straight games against regional foes and is 70-6 against the region since 2016-17. The Lady Bearcats' dominance over the teams expected to be their main threats has been astounding. Owen County, which stayed within 12 points of Anderson last year, has not beaten Anderson since January 22, 2011. Spencer County, last year's regional runner-up, has not tasted victory against the Lady Bearcats since December 17, 2001.
Both teams have almost their entire rosters returning.
Simon Kenton has historically been Anderson's biggest regional hurdle going 8-4 against Anderson in regional tournament play since being moved to the 8th in 2005-06. The Lady Pioneers were an uncharacteristic 3-16 after center Sereniti Webb went down with a knee injury and missed the season. She's back for her senior season and Coach Jeff Stowers' final season at the helm.
"We are very aware of what is in Taylorsville," Birdwhistell says. "We are very aware of what is in Owenton. We are very aware of what is in Walton-Verona. When was the last time you ever saw Walton-Verona bad? We are very aware that Sereniti Webb is back at Simon Kenton."
But the 8th Region is also very aware of what is in Lawrenceburg: A regional favorite with the state's best player.
That's a pretty good combination.
HERNDON'S GIRLS 8TH REGION PICKS
Anderson County
Spencer County
Owen County
Simon Kenton
South Oldham
North Oldham
Walton-Verona
Oldham County
Region's top players: Amiya Jenkins, Jacie Chesser and Paige Serafini of Anderson County; Lexi Runion, Bayleigh Ennis, Alyssa Hitch and Daveigh Reichenbach of Spencer County; Lexie Moore, Gracie Ferguson and Destiny Goodrich, Owen County; Sereniti Webb, Simon Kenton; Riley Neal; North Oldham; Kayley Batts, Oldham County; Sierra Kemelgor and Ella Morrison, South Oldham.
NEXT WEEK: A look at 8th Region boys