Former Oldham, Mercy coach is back on the bench at Anderson County
By John Herndon for GLICOD
LAWRENCEBURG, Ky. – Mark Evans has found a new home and it's connected to an old home where some of his fondest memories were created.
The coach who led Mercy Academy to the Kentucky state championship in 2010 and directed one of the state's best teams at Oldham County in the mid-1990s is back on the sidelines after retiring as Mercy's athletic director in the summer.
That new home? He joined the girls' basketball coaching staff at Anderson County, a regional rival of Oldham, in early January. In making the move, Evans has connected with a program looking to make its third consecutive trip to the Sweet 16. It would be a feat that has not been accomplished in the girls' 8th Region since Oldham turned the trick in 1988, 1989 and 1990.
Anderson coach Clay Birdwhistell had been inviting Evans to be a part of the Anderson staff for some time. "Clay and I have been great friends for a long time," Evans said. "We talked all the time about ball games, when I retired, whatever the situation was. … Clay was struggling a bit and was one (coach) short and needed a little help.
"I am pretty much carte blanche here. I do most of the defensive schemes and type of things. Clay does most of the offense."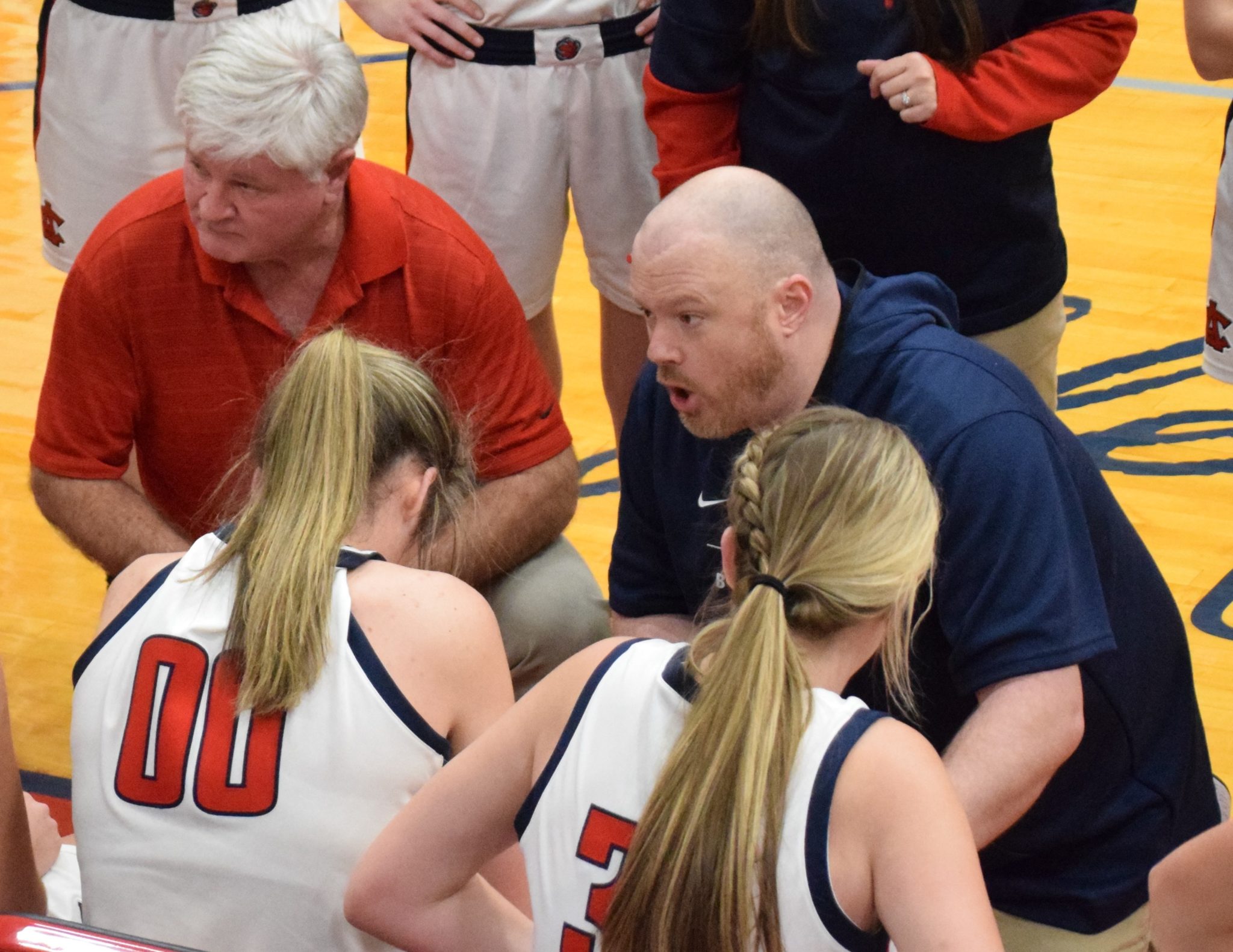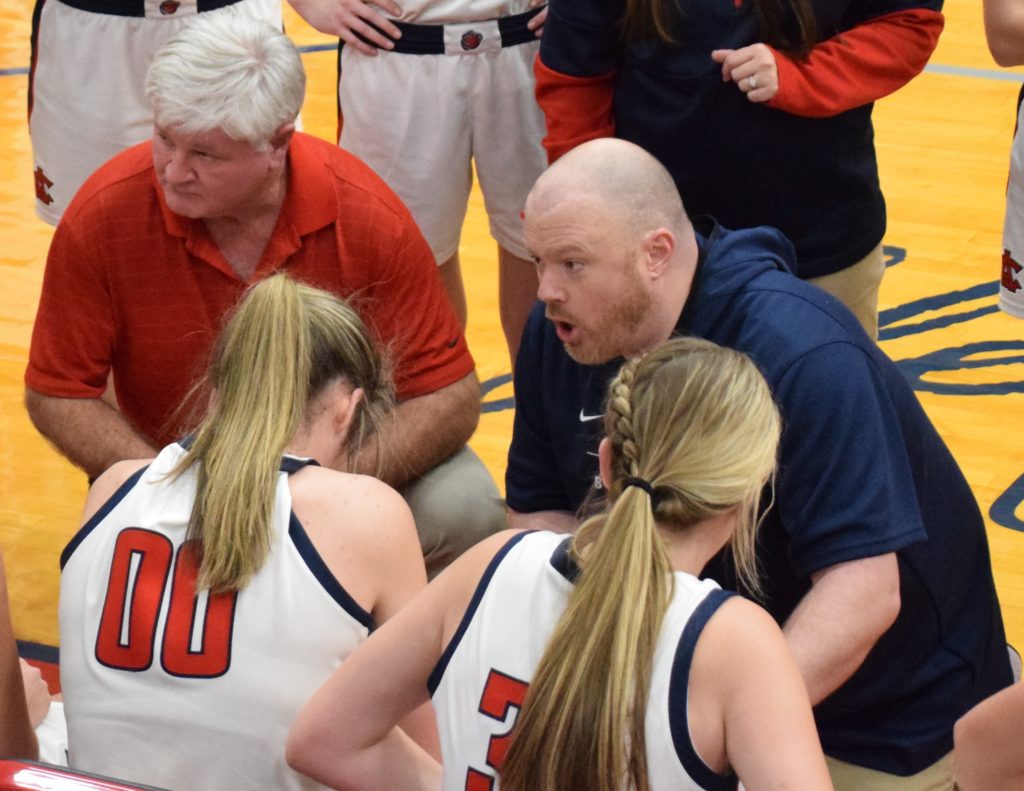 The need arose when last year's top assistant, Nick Cann, took a head coaching job – more on that later – and junior varsity coach Keith Currens left for a position on the staff at Georgetown College.
Evans joined Birdwhistell, who is now in his eighth season leading the Lady Bearcats, and a staff that includes JV coach Charlotte Holtzclaw and first-year coach Sammy Rogers, who returned to Anderson County after graduating from Campbellsville University in 2021. Rogers played for the Lady Bearcats from 2014-2017.
And with Evans, Anderson got a 63-year-old man who has been coaching since he was 19. Over those 44 years, he's earned a state title and multiple regional crowns.
What the Lady Bearcats didn't get was someone just to occupy the bench seat next to Birdwhistell. "Clay doesn't want a yes person and he didn't get that with me," Evans laughs, "but it's been a lot of fun."
The thought of making a short drive from his eastern Jefferson County home to Lawrenceburg was not on Evans' mind as he contemplated his retirement from Mercy. But one of the last hiring decisions he took part in at Mercy was that of luring Cann, who had been a key part of Anderson's phenomenal run over the last decade, to Mercy as head coach.
Cann, who Evans calls "a tremendous coach," has led the Jaguars to a place in the Top 10 and poised to make a run at the 6th Region and state championships. So when Birdwhistell finally filled that role of top assistant, it could almost be looked at as a trade where both sides benefit.
"I always want to surround our kids with the best possible people," Birdwhistell says. "This is something that Mark and I have talked about for years, and much more intensely in the last 18 months. In my opinion, Mark is the best girls' basketball coach our state has produced. So, pursuing an opportunity to have him in Anderson County is a no-brainer."
Evans came aboard following the Lady Bearcats' loss at Louisville Central on Jan. 3.
"I learned the kids' names in two days," he smiled. "I had some help. Clay gave me some pictures with the kids' names on them."
Almost everything has gone smoothly. The Lady Bearcats, 23-4, have gone 11-2 since Evans came aboard with two more regular season games this weekend. They open post-season play against either Shelby County or Collins on Monday, Feb. 21. "His experience has been invaluable in implementing some new concepts for our kids," Birdwhistell says. "On the bench, we are in constant dialogue."
It's a significantly different scenario from when Evans originally touched down in the Eighth Region in 1992. He'd been an assistant coach to Leslie Scully on Mercy's first state title team that March but got a call from his good friend, Dave Weedman, at Oldham County. "He thought it was time for him to get out but he knew he had (future University of Tennessee player and University of Kentucky head coach) Kyra (Elzy) and that whole group of incoming freshmen," Evans remembers. "He called me and said, 'Mark, I want you to be the next head coach. I have always been a yeller and screamer and that's not how you do things. The kids need another voice and it's my time to step away, so I got the job."
Evans stayed in Buckner for five years before returning to Mercy as head coach. And that group of freshmen is undoubtedly one of the best to not win a state championship. "With Kyra's group, we were ranked No. 1 two years in a row and rightfully so. We should have been," Evans says. "But Scott County, with Ukari Figgs and Camille Cooper (both future WNBA players) got us in the region. They had a great team and Wayne (Atkins) was still coaching then. He did a nice job. The following year (1995-96), we just destroyed everybody until we got to Warren East in a Christmas tournament, the Lady of the South, and my point guard, Anna Rufra (now Green) tore her ACL."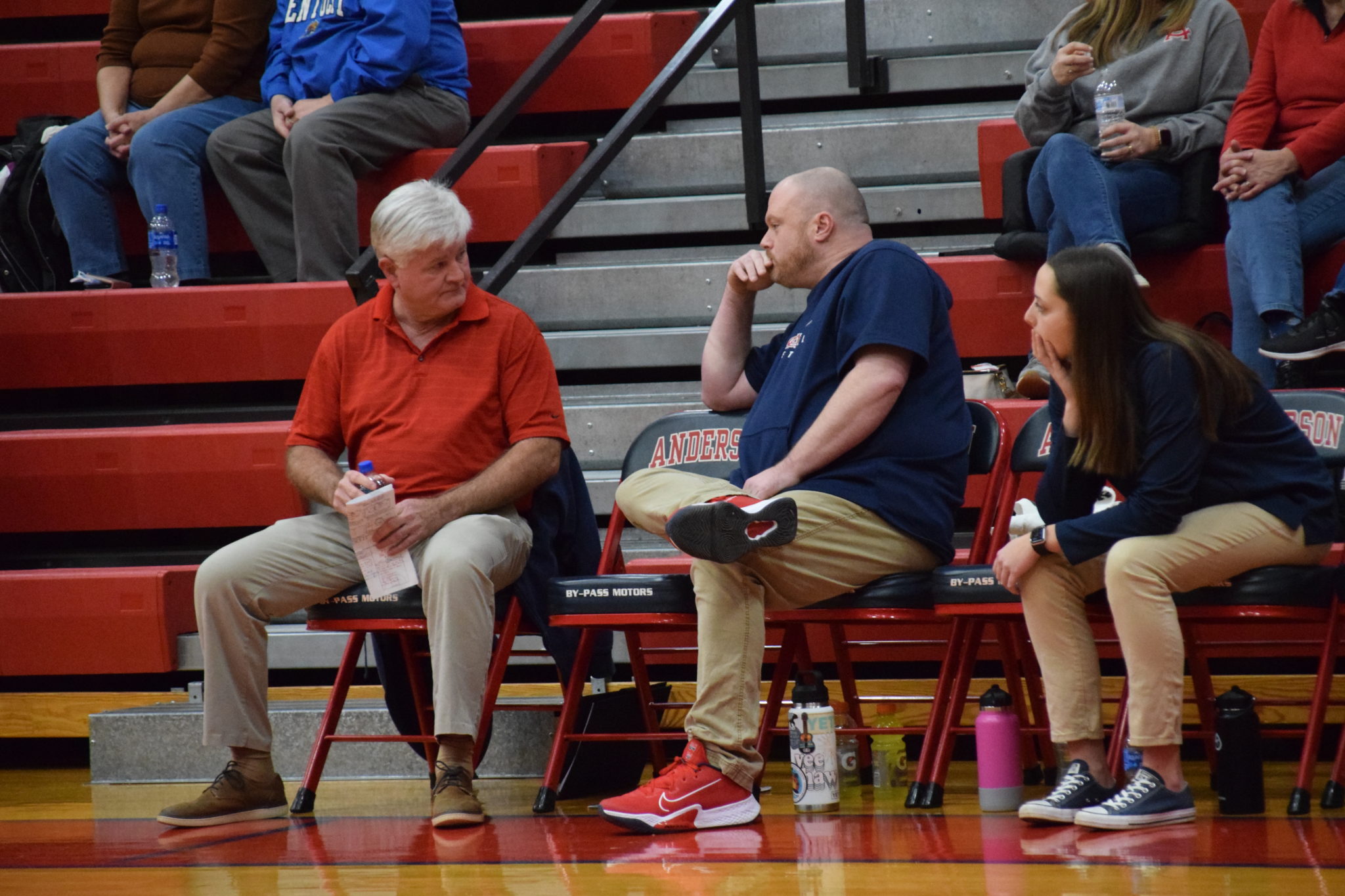 The disappointment still shows as Evans reflects on what might have been.
After coaching one more year at Oldham, Evans returned to his first home, Mercy, as head coach, winning the state title in 2010. Ironically the team his Jaguars defeated in the final was Scott County, the school that had knocked one of his best teams out of the title hunt 15 years earlier.
"That Oldham County team felt they should have been my first state championship as a head coach," Evans said. "It didn't happen for us when we had the ACL injury. It was tough but we have always been super close."
After Mercy won the 2010 state title, some members of that Oldham team contacted Evans, telling him they wanted to meet him at Porcini's in Louisville. What he did not know was the surprise awaiting. "When I got there, the team and the parents were all there. They had a cake and everything. They were celebrating the championship at Mercy. Those are some pretty cool kids."
It痴 the kind of relationships that make great coaches. Evans admits that early in his coaching career, he was a regular at coaching clinics that featured some of the biggest names in the business. He took things from Rick Pitino, who was coaching at Kentucky at the time, and Louisville's Denny Crum, including the 2-2-1 press the Crum learned from John Wooden at UCLA. He picked up some things from former ABA and NBA coach Hubie Brown. And he talked often with Oldham County boys' coach Gary Forrest, who Evans says "doesn't get a lot of recognition but was one of the best around."
Evans says he set his schedule to avoid conflict with Forrest's. "I would purposely sit by his bench and try to learn from it," Evans said.
But most of all coaching is about relationships. "I am not a real religious person, but I feel you ought to treat people the way you want to be treated," Evans says. "If you are fortunate enough to do what I have gotten to do all of my life and love the kids, they will love you back. I have a ton of kids who will always be mine. I have a lot of daughters out there."
And he's getting a few more at Anderson County. One of those new daughters, Amiya Jenkins, has signed to play college basketball for another of his daughters, Elzy, at the University of Kentucky.
"I am amazed a little bit more every single day I am with (Jenkins)," Evans says. "She has a way of doing some very special things. She is super smooth. You never know what you are going to get when you come into a situation. At first, I was not sure of what she thought of me. .We hit it off. She has a great demeanor and is great with her teammates. They are great friends."
And the Lady Bearcats are gunning for another deep postseason run. If it happens again – Anderson made the Final Four last year – Evans will have made his mark on another program. He's at every practice, every film session, every shoot-around and, of course, every game.
"The fact that he drives from Louisville 5 or 6 times a week, and doesn't receive a nickel, says a lot about him," Birdwhistell says. "He is completely invested in our kids and we are certainly better off for it.
"When he came, it was to just be for this season. However, he has enjoyed it so much he has committed to come back in '22-23."
For Evans, Mercy is undoubtedly his first home. He coached softball and basketball at the school and became recognized statewide. He paused before smiling, "Oldham County is my second home, but now I have a third home."
Anderson County is mighty glad he does.
ELZY STAYS CLOSE TO HER HIGH SCHOOL COACH
When Anderson County hosted Owen County on Feb. 14, the Lady Bearcats had a couple of special guests. University of Kentucky women's basketball coach Kyra Elzy and star guard Rhyne Howard were in attendance to see future Wildcat Amiya Jenkins eclipse 2,000 points in her high school career.
Soon after the Lady Bearcats recorded a 71-54 victory over the team ranked closest to them in the 8th Region, Elzy could be seen embracing her high school coach, Anderson assistant Mark Evans.
We caught up with Elzy to talk about their relationship and how he influences her today as she coaches in the Southeastern Conference.
"He taught me a toughness and work ethic. That blue-collar mentality," Elzy said. "It's the winning mentality and that we are a family. Everything is about family."
Evans said they stay in touch but he was concerned for his former pupil as the Wildcats hit the skids, losing 8 times in 9 games from Jan. 9 through Feb. 10. They have since won three straight to go 12-11 on the year with three games and the SEC Tournament left.
"I feel for Kyra right now," Evans said. "She is struggling some with injuries and the SEC is getting better again."
But Evans believes Elzy will get things back. "She is known as a top recruiter in the country," he said.
And Elzy knows she has major support from the man who guided the Oldham County Colonels when she starred there. "We talk a lot," she said. "He texts me after almost every game. He is my coach and my second father. I have a lot of love for him."