GIrls' Sweet 16 Matchup Worth the Wait
by John Herndon for GLICOD
It's tempting to say that the Mingua Beef Jerky Girls' Sweet 16 is saving its best first-round match for last.
Sacred Heart vs. Anderson County. Valkyries vs. Lady Bearcats.
It's a rematch of last year's semi-final round when Sacred Heart pulled off a bit of an upset of then top-ranked Anderson. The tables are turned this year with Sacred Heart being ranked No. 1 most of the year but Anderson has stayed around, going 30-4 and being ranked in the state's Top 10 all year.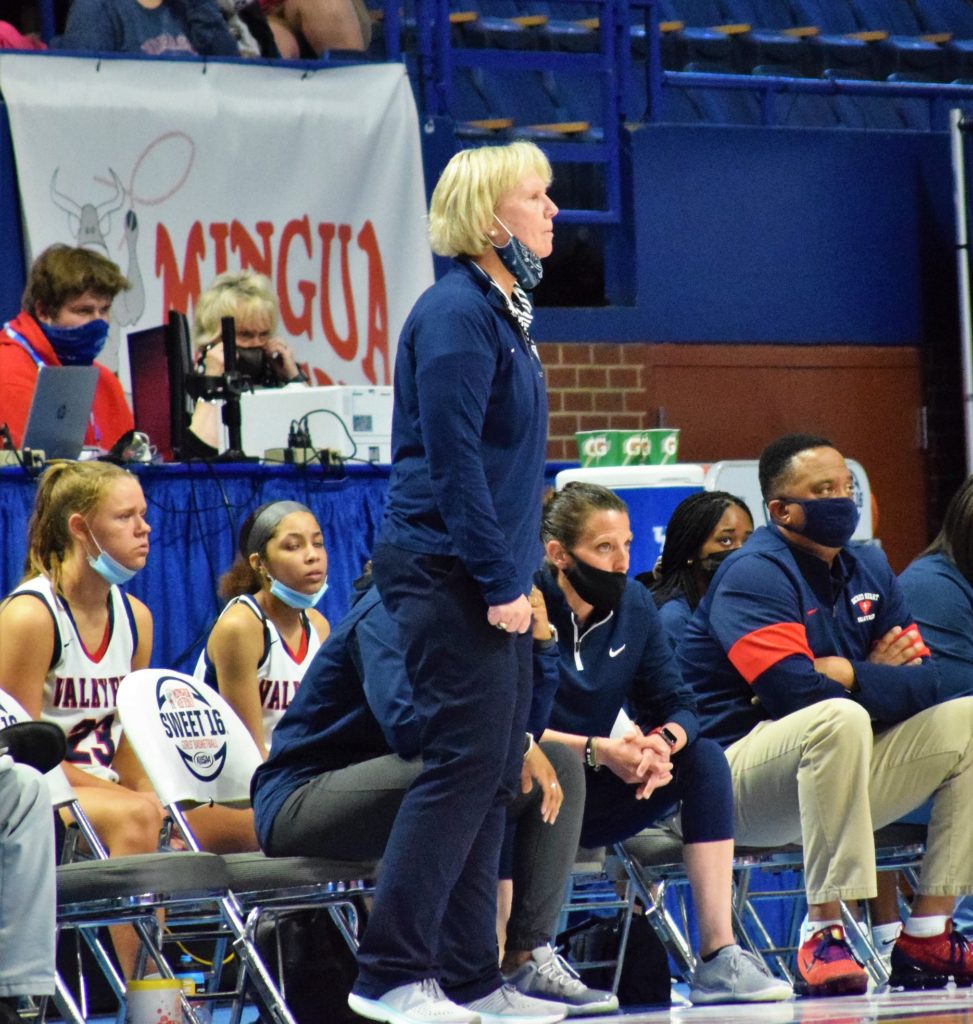 "It is a tough draw," says Sacred Heart coach Donna Moir, who has won over 700 games and four state championships. "Not only do we have a tough opponent but it's the late game on Thursday, then you have to come back and play the late game on Friday and two games on Saturday."
Sacred Heart, 32-3, is favored to do just that. The Valkyries are the defending state champions and added to their firepower when freshman Zakiyah Johnson transferred from Shelby County last summer. Johnson leads Sacred Heart in scoring and rebounding at 17.8 and 7.8 a game respectively. Johnson is considered one of the top talents nationally in the Class of 2025 and some believe she is already the best in Kentucky, regardless of class.
"Zakiyah has fit in very well," Moir says. "She can score inside and out and is a strong rebounder."
Anderson is very familiar with Johnson, who went against the Lady Bearcats four times while playing at Shelby as a seventh- and eighth-grader. "The first time I saw her play, I told our staff that at worst, she's first team all state as a senior. She was that good. I never thought I'd see a middle school player better than (Mikayla) Epps, but I think you can certainly make a case that Zakiyah was that. She is truly a special kid."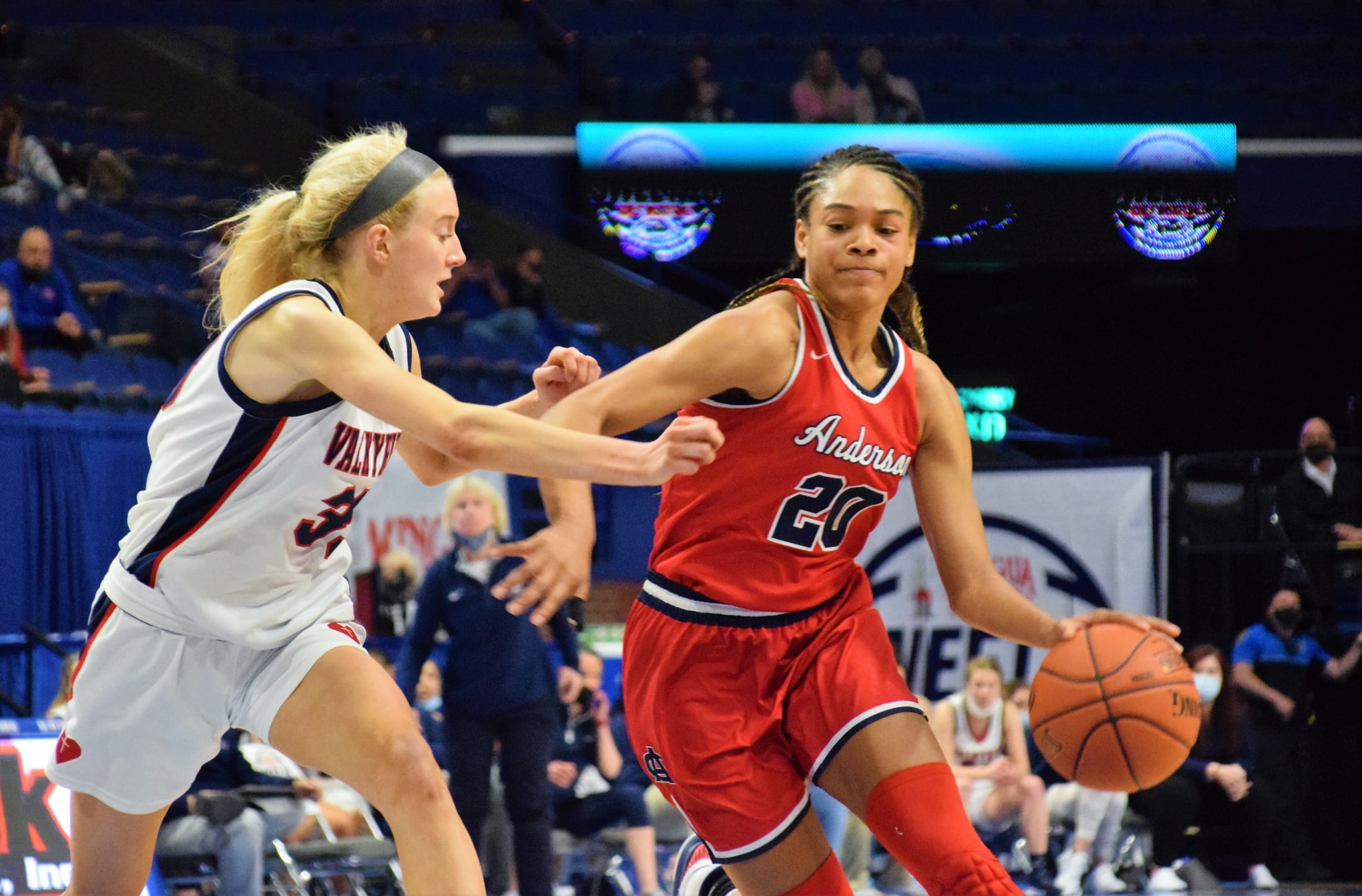 Anderson, of course, has its own big-time talent in senior guard Amiya Jenkins, a top Miss Basketball candidate who has signed with the University of Kentucky. Jenkins averages almost 21 points a game and has the ability to take over a game in multiple ways. Jenkins usually guards the opponent's best perimeter player when Anderson goes man-to-man and she has hit on better than 47 percent of her three-point attempts. Jenkins, who played at Henry Clay as a freshman, has scored over 2,000 points in her high school career.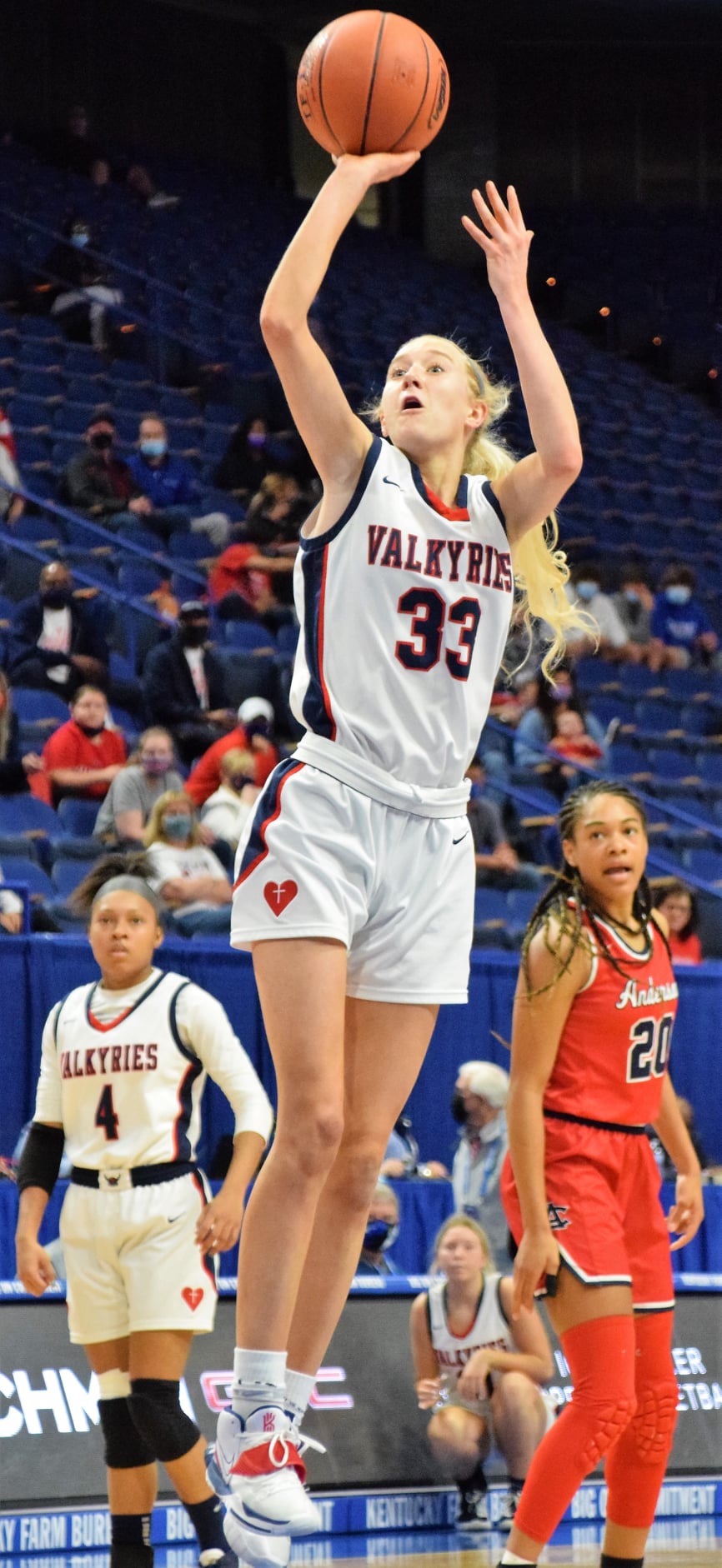 But Thursday's matchup promises to be more than a Johnson-Jenkins showdown. Sacred Heart boasts its own Miss Basketball finalist in Josie Gilvin, the MVP of last year's Sweet 16, and multiple players who could play at a high collegiate level. "She is a kid who could easily average 20 ppg in the tournament," Birdwhistell says.
While Johnson leads Sacred Heart's balanced attack, Reagan Bender comes in at 11.5 ppg and Angelina Pelayo is just shy of double-digit scoring at 9.9 ppg.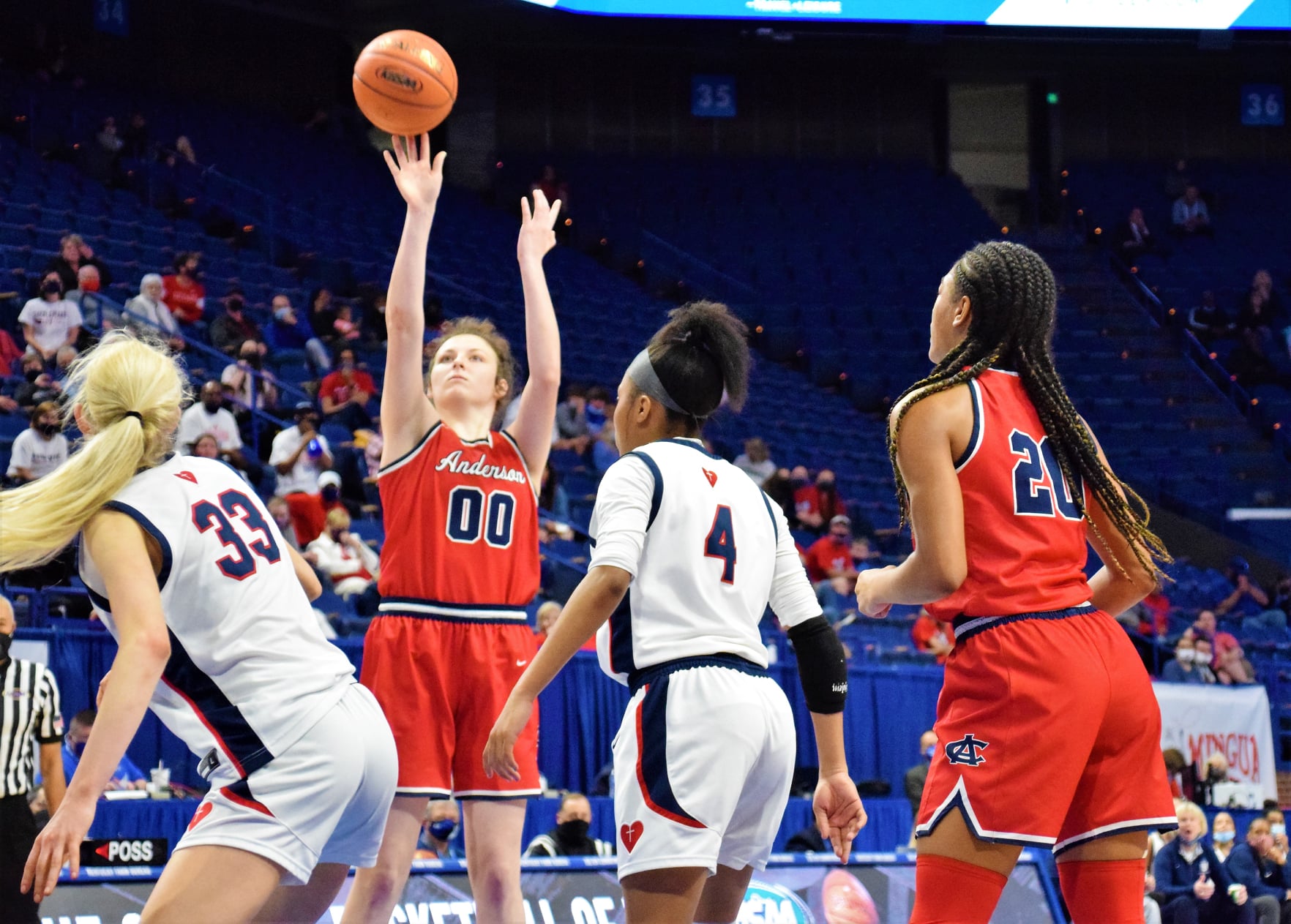 "I haven't seen Anderson County in person this year," Moir says. "We know their attack is centered around Jenkins and a lot of their offense goes around their post player (Jacie Chesser)."
While Anderson does not have the major star power beyond Jenkins, Chesser, a senior, tallies 11.4 ppg and guard Paige Serafini comes in at 9.8 ppg. Serafini has committed to Campbellsville University.
Last year, Anderson defeated Sacred Heart in the regular season as Serafini banked in a 3-pointer in the waning seconds. Six weeks later, Sacred Heart got revenge, overcoming an eight-point third quarter deficit in the state semifinals. "Our game at their place was a really good high school game," Birdwhistell recalled. "It was certainly full of highs and lows. … Anytime you lose in the state tournament, it is really tough. Not only are the seniors playing their last game, but that team's chapter has closed. It was a very emotional time. However, I don't think it will play any factor in the game on Thursday."
Moir knows her team is expected to be bringing home the big trophy again, but expects a battle. "We will have to handle our nerves," she says. "Obviously, Anderson County will throw different defenses at us. We are going to have to rebound and handle their offense. They are going to shoot a lot of threes."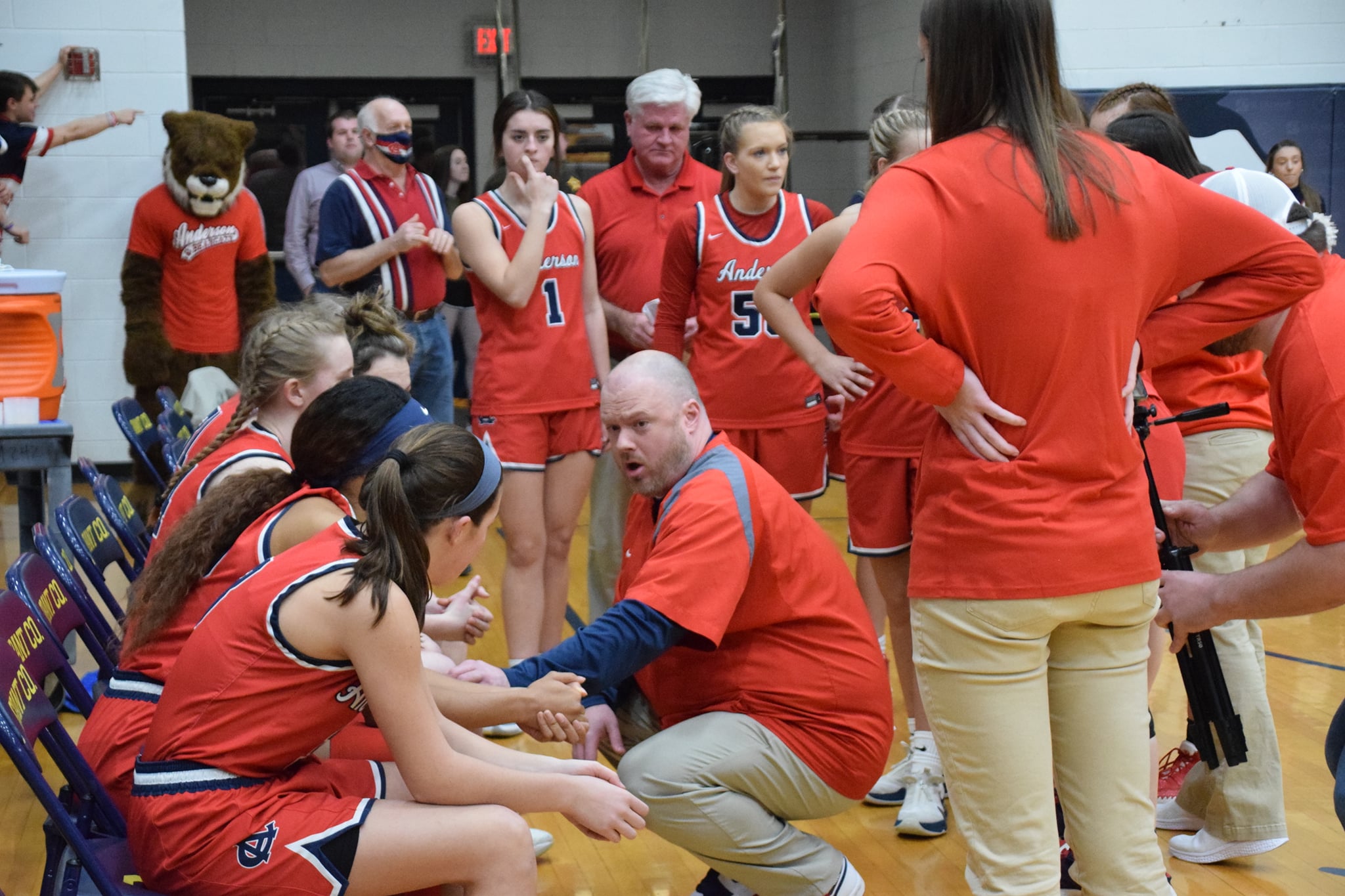 Birdwhistell says that Sacred Heart is much like last season, only better. "I think the most apt way to describe them is that they've evolved. They are a very similar team (to last year's) style-wise, but they are much better at it. … You return everyone off a state championship team, and you add maybe the best freshman in the country.
"I think at this point of the season, there are very few surprises. You kind of are what you are, so it becomes a matter of who can make the game about their strengths."
A year ago, Anderson went to Rupp Arena as perhaps a slight favorite before Sacred Heart ended the dream. This year, Birdwhistell knows his team must play a perfect game. "Obviously, we have to hit shots. They are tough to get open looks against. So we will really have to work at it and we must hit them when they present themselves. We can't let them get multiple attempts. We have to box out.
"Sacred Heart is the clear favorite to win the tournament and have been ranked No. 1 most of the year, so we have a monumental task in front of us. At first, you just have to weather the storm with them. You know they will take runs. You have to try and limit them as much as possible and just keep grinding."
Sacred Heart vs. Anderson County
Records: Sacred Heart 32-3, Anderson County 30-4
Records against the field:
Sacred Heart 6-1 (Defeated Southwestern, Meade County, Bowling Green, Bethlehem, Bullitt East twice; lost to Bullitt East.)
Anderson County 3-2 (Defeated Southwestern, Cooper and Franklin County, lost to Cooper and George Rogers Clark.)
The series since 2010: Sacred Heart 5, Anderson County 1
2010-11 Sacred Heart 49, Anderson County 48
2013-14 Sacred Heart 66, Anderson County 57
2014-15 Sacred Heart 50, Anderson County 42
2019-20 Sacred Heart 60, Anderson County 58
2020-21 Anderson County 69, Sacred Heart 68
2020-21 Sacred Heart 63, Anderson County 53 (Sweet 16 semifinals)